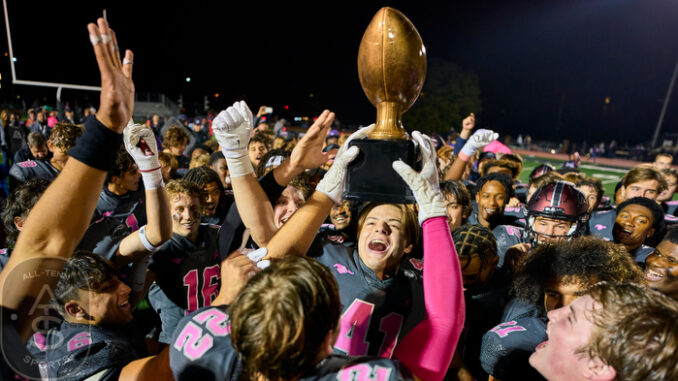 Harrison McClary/All Tenn Sports
Lipscomb Academy gave visiting CPA a solid thrashing for a resounding win on homecoming night at Reese Smith Athletic Complex.  The Mustangs entered the game tied for first with CPA in their region.  They ended the game with a 38-0 win and sole position of the number one spot.
Alex Broome drove six yards for the first score late in the first quarter.  He added another two TDs in the second quarter, one a seven yard dash and another on a 26 yard pass play from Luther Richeeson.  The Mustangs went into the half up 21-0.
[Best_Wordpress_Gallery id="121″ gal_title="LA-CPA 2021″]
Broome broke loose in the third quarter for a 64 yard sprint to the end-zone to put the Mustangs up 28-0.
In the fourth quarter Grant Hyatt kicked a 25 yard field goal and Broome added yet another TD, his fifth for the night, to give Lipscomb Academy a 38-0 win.
Lipscomb Academy racked up 472 yards total offense to CPA's 215. Luther Richeeson passed for 276 yards, going 23 for 29, gave up one interception, and threw for one TD. Alex Broome dashed for 189 yards and scored 4 rushing and one receiving TDs. The Mustangs drove for 25 first downs in the game.
"Great team win in all three phases of the game. The atmosphere was simply electric. Win, lose or draw, our players are aware that what they have accomplished simply by coming together from all walks of life and uniting as a brotherhood is extremely harder than the opposite. They've learned to love and respect each other. They know in their experience in these moments will serve them in life 10, 20, 30 years from now. I am so grateful they all chose to get outside their comfort zone, do hard things and live an uncommon life that is set apart. We/re looking to finish region lay strong. We.re on to BGA." Trent Dilfer, head coach.
Lipscomb Academy finishes regular season play at home against BGA Friday, October 29, 2021, at 7:00pm.