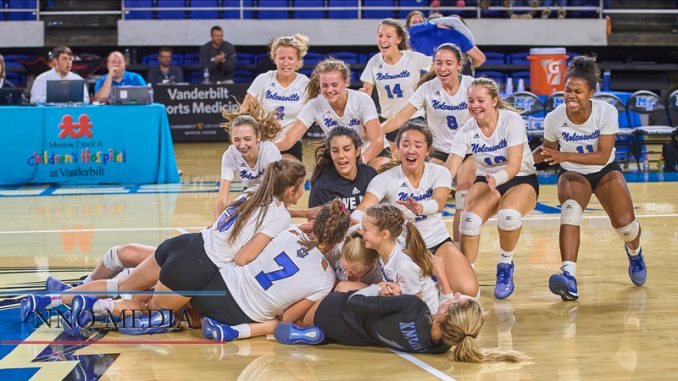 Harrison McClary/N&O
Nolensville volleyball brought home the first ever State Championship to Nolensville High School with a 3-1 win over Portland in MTSU's Murphy Center in Murfreesboro Thursday afternoon.  Nolensville had lost to Portland in the semi-final round, forcing them to play in the elimination round semi final to make it to a rematch in the championship game.
The team came out strong in the first set, leading much of the time. Portland caught up and tied the set at 24 and finally won 27-25.
That was the last set Portland won. In the words of Lauren Starcke "We came out so strong and after losing that first match we were like, 'Ya know what, we are not going to lose from here. This is our game and it is awesome.'" It was. Nolensville dominated Portland the next three sets winning the final set 25-12.
When asked what her thoughts were on winning the state title Starcke said "It's incredible to have that legacy and to keep going, no seniors so we are going to go for it again next year. It's incredible that we are able to do this as such a young team."
At one point in the game she took spike straight on the nose. She said "The nose hurt, but we put a nose plug up in there so we were good!" When asked about this Coach Young said ""She's a really tough kid, she's played on a knee that has bothered her all year and will probably have to have something done to it at the end of the year. I'm not sure she did not break her nose when that ball hit her, but she told me "I'm not coming out" and I said OK"
Coach Brett Young was excited with the win, his first in 24 years of coaching various sports. "It's an awesome feeling. It's a great school and we live in a great town and had great support from teachers and fans. I've been coaching for 24 years now and it's the first one I've been able to be a part of. I've done basketball, baseball and volleyball. It's a feeling that is tough to describe. It was an unbelievable feeling to get that championship and look up in the crowd and see how excited our whole town is. We have the same team next year. We have 12 really good players. No one is leaving. It's going to be a battle for playing time."
[Best_Wordpress_Gallery id="22″ gal_title="Nolensville final"]