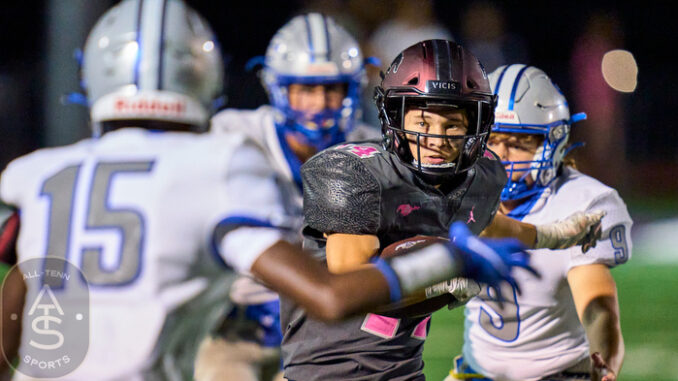 Lipscomb Academy rolled over visiting Etowah 70-10 on a stormy Friday night in Nashville.
The game kicked off at 5:30 to beat storms that were set to roll into Middle Tennessee later in the evening.  The Mustangs came out fast, scoring 28 points in the first quarter.  Three TDs were from Luther Richeeson passes and Alex Broome charged in for the fourth TD.
In the second quarter Richeeson passed for three more touchdowns and Jordan Jackson ran an interception in for a fourth TD. The Mustangs headed into half up 56-0.
[Best_Wordpress_Gallery id="119″ gal_title="LA-Etowah"]
Etowah finally got on the board in the third quarter with a 35 yard field goal. Lipscomb Academy's Hank Brown then connected with Mason Reynolds for a 33 yard TD.
Ayden Houston drove 8 yards for the final Mustang TD of the night, bringing the final score to 70-10.
Lipscomb Academy had 493 yards on the night compared to Etowah's 165 yards. Luther Richeeson passed for 314 yards and Hank Brown passed for an additional 66. Ayden Houston rushed for 55 yards, Alex Broome for 30 and Carlin Walker had 20 yards on the night.
"We wanted to get the experience of playing schools who play outside our state. Being able to play teams from Georgia, Arkansas, and Alabama resulted in a lot of growth for our Tribe. We know our best football is ahead of us. We're looking forward to finishing Region play strong and that starts with the best Saturday of review and preparation we have ever had. One day at a time. Again and Again and Again." Trent Dilfer head coach.
Lipscomb Academy and CPA face off in a clash of the best schools in the state Friday, October 22, 2021, at 7:30pm at Lipscomb Academy.