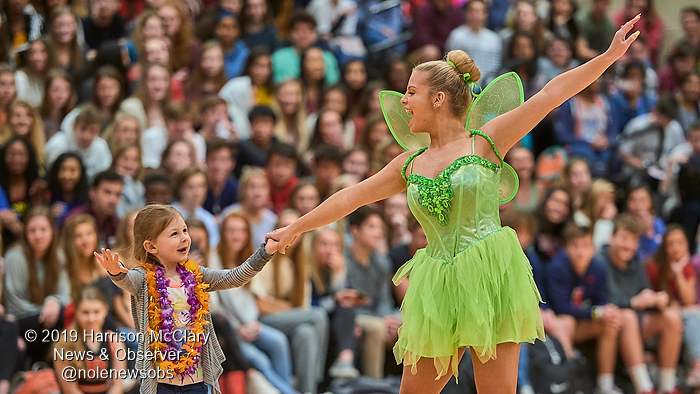 Four year old Addy Fernlund, she will be five on April 10, stands in the middle of Ravenwood's basketball court, mouth agape, hands on her cheeks, eyes wide as Disney Princess, after Disney Princess walks under crossed swords to kneel in front of her, say hello and give her big hugs.
Addy had been sitting in her seat watching as students danced and sang to Disney songs. Tinkerbell came dancing by, held out her hand and danced her to the middle of the floor. They spun and danced and came to a stop as the princesses began to arrive.
Once all the princesses arrived the students shouted, by class, "You're going to Disney World!" The gym was supercharged with excitement and emotion as little Addy, eyes wide, looked around at the massed students, all the Disney Princesses and finally at Tinkerbell. She was going to Disney World, her wish had been granted.
Tinkerbell and Elsa each took a hand and along with the other princesses escorted Addy and her family to the library where they hosted a special party for their new princess sister. Each princess gave Addy a gift of a doll of themselves. As little Addy opened each package she exclaimed with wide eyes "It's YOU!"
This was the tenth year Ravenwood students granted a wish with the Make a wish foundation. Over those ten years the students have raised a total of $97,000 to grant wishes. This year the students raised $19,000 through various events and fundraisers. The JROTC raised $880 with "No Shave November", Mr. RHS raised a little over $15,000, and Dodge for a Cause raised a little over $3,000.
From six months old Addy had seizures. In August of 2017 she was diagnosed with anaplastic astrocytoma, a rare malignant brain tumor. She underwent surgery that was able to remove the tumor, then had six weeks of radiation and eight months of chemo. She now has an MRI every three months to be sure everything is ok.
Addy and her family are planning their trip to Disney this fall, in October, during her fall break. Her father, who serves overseas with the US Army, should be home by then.
The students who participated in the event were wonderful with little Addy, and you could tell they were as affected as their new friend was. Lily Wilson who portrayed Belle said "It was so special to see her face as we came out. It was so joyful."
by Harrison McClary/News & Observer