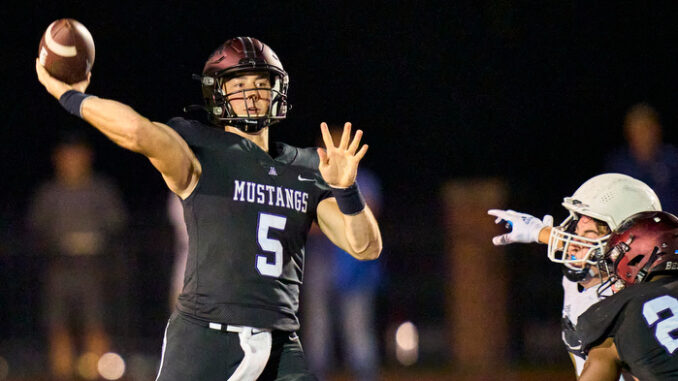 Harrison McClary/AllTenn Sports
Lipscomb Academy faced off with top 100 Pulaski Academy Friday night and pulled away with a decisive 64-28 win.
Pulaski Academy pulled out to a quick 14-3 lead and it was looking good for the visiting Bruins. Lipscomb made a few adjustments and racked in 33 unanswered points before Pulaski was able to get on the boards again.
The Mustangs went into half time with a 36-22 lead.
[Best_Wordpress_Gallery id="98″ gal_title="LA-Pulaski Academy"]
Lipscomb continued their scoring roll in the 3rd quarter adding 21 points and an additional 7 in the 4th quarter to win 64-28.
Lipscomb had 105 more total yards offense that Pulaski academy, racking up 476 yards to their 371. It only took the Mustangs 53 plays to garner this impressive number. The Mustangs were 23-of 30 in passing for an average of 12.4 yards and 8 touchdowns.
The Mustangs intercepted five of Pulaski Academy's passes.
Leading the Mustangs offense was Alex Broome with 160 yards rushing and Luther Richeeson with 265 yards passing.
"One of the more unique, fun games I've ever been a part of. Pulaski's a top 100 team in the country and I loved how our boys bounced back when we fell down early 14-3. They were resilient and never flinched. Five takeaways, six points allowed in the second half, all but one onside kick recovered, field goal unit executed at a high level, kick off coverage allowed 17.8 yards per return and nine touchdowns on offense. Complimentary football won tonight. We're ready for FRA." Trent Difler, Lipscomb Academy head coach.