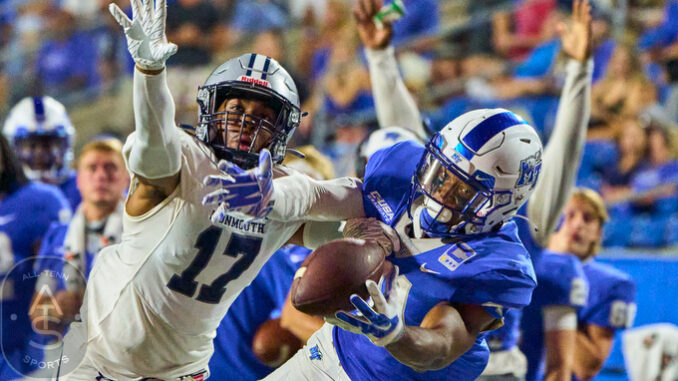 Harrison McClary/AllTenn Sports
Middle Tennessee rolled to a 50-15 win over visiting Monmouth for their 2021 season opener in Murfreesboro Saturday night.
Middle was a bit slow to start, struggling to get running in the first quarter. However, in the second quarter Jayln Lane got the team rolling with a 70 yard punt return for a touchdown. Middle capitalized on two fumble recoveries to add 14 more points in the second quarter to head into half time up 21-7.
[Best_Wordpress_Gallery id="93″ gal_title="MT-Monmouth21″]
Middle continued the points roll in the second half, adding 7 in the third quarter and 22 in the fourth, including a Kylan Stribling pick six 38 yard interception return.
Middle had 337 total yards on the night. Bailey Hockman completed 17 passes for 215 yards and three touchdowns.
Head coach Rick Stockstill said of the win: "I was really pleased. The biggest thing that stood out to me was that we had four takeaways and we didn't turn the ball over. I thought that was the difference in the game. We got a couple of fourth down stops, and that's like getting a turnover. I thought we played fast and kept everything in front of us, defensively. We tackled good for the first game. Jaylen [Lane]'s punt return for the touchdown was good and I thought we covered kicks and kicked well. We have some things that need to be cleaned up in the kicking game, but overall was pleased with it."