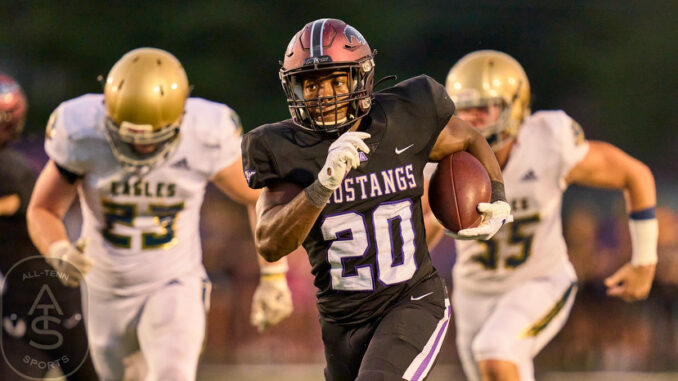 Harrison McClary/AllTenn Sports
Lipscomb Academy continued their roll over visiting teams with decisive 62-7 win Friday night over Independence High school. The Mustangs ran up a 27-0 lead by the end of the first quarter and added points in each of the following quarters of play.
The Mustangs took only 18:36 in time of possession to rack up an impressive 488 yards of total offense in 45 plays. Quarterback Luther Richeeson was 15 of 18 for the night with a total of 174 yards passing. On the ground Alex Broome was unstoppable, charging for 211 yards in 15 carries. Also leading the rushing game for the Mustangs Carlin walker added 75 yards in four carries and Ayden Houston added another 16 with three carries.
[Best_Wordpress_Gallery id="87″ gal_title="LA-IHS 2021″]
Independence threw four interceptions in the game, one of which Joseph Cummings hauled in for a pick six.
After the game Mustang coach Trent Dilfer said "Last year on this date, August 27th, we experienced extreme highs and extreme lows on the road vs JP2. 365 days later this tribe has completely transformed. The growth in their minds, their bodies, and their souls has been remarkable to witness and it's only to keep getting better. We've only played 96 minutes of football, a lot more still to go. We're ready to start region play with Goodpasture.'
The Mustangs travel to Goodpasture for their next game 7:00 PM Friday, September 3.