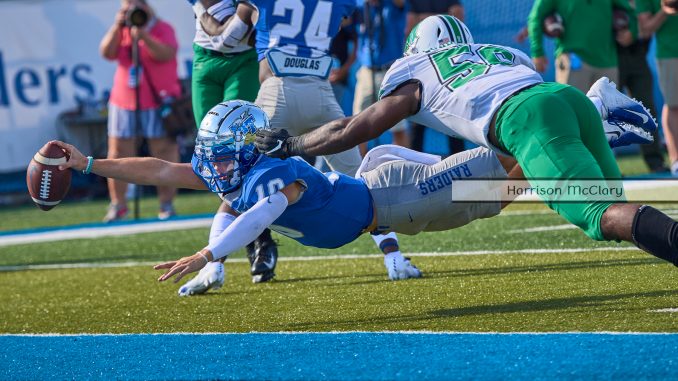 MT Athletics
MURFREESBORO – The 2020 Johnny Unitas Golden Arm Award Watch List was announced today and Middle Tennessee's Asher O'Hara was one of 48 signal-callers honor. O'Hara, who is also on the Wuerffel Trophy watch list, was one of just two quarterbacks from Conference USA.
 
O'Hara ended his first year as a starter with 2,616 passing yards and 20 touchdowns, while also adding a team-best 1,058 rushing yards and nine scores. He became just the second quarterback in school history to top the 1,000-yard rushing mark.
 
O'Hara also became the first Blue Raider signal-caller to pass for 300 yards in a game while also topping 100 yards rushing. He accomplished the feat with 367 passing yards and 103 rushing yards in a win over TSU.
 
The namesake of the Golden Arm Award has a storied history. Johnny Unitas was an 18-year veteran of the NFL, who played his collegiate career at the University of Louisville before joining the Baltimore Colts in 1958. His career passing figures include 2,830 pass completions for 40,239 yards, 290 touchdowns and throwing a touchdown pass in 47 consecutive games.
 
This award is presented annually to the top senior and upperclassman quarterback set to graduate with their class by the Johnny Unitas Golden Arm Educational Foundation and Johnny Unitas Golden Arm Selection Committee. Candidates are chosen based on player performance on and off the field.
 
To learn more about the Golden Arm Award, please visit: Golden Arm Foundation or Golden Arm Award. Additionally, please follow the conversation throughout the college football season on Twitter (@GoldenArmAward) and use the hashtags #GoldenArmAward and #InnovationLeaders.