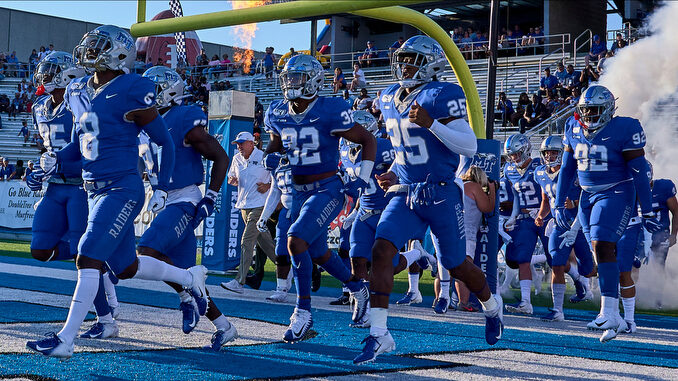 MT Athletics
MURFREESBORO, Tenn. – The Middle Tennessee football season will start as scheduled but against a first-time opponent.
Director of Athletics Chris Massaro confirmed the Blue Raiders will play five-time national champion Army at West Point, N.Y., in the season opener either Sept. 4 or Sept. 5, depending on television. It will be the first meeting between the two teams.
"We are excited to open the season with a national opponent and this match up should generate a lot of interest," Massaro said. "It will be great for our program. As one would expect the administration at Army West Point and we look forward to the return game in Murfreesboro in the future."
Landing the Army game settles the Middle Tennessee football season. The Blue Raiders were scheduled to play Indiana State in the home opener, Sept. 12; however, school officials announced the Sycamores' season has been postponed so this will become an open week for Middle Tennessee.
The Blue Raiders will face Troy in the home opener, Sept. 19, and play at Troy, Nov. 21, replacing the scheduled game at UConn, which also canceled its season last week.
The Conference USA Board of Directors approved the league's timeline and scheduling format for football competition for the 2020 season Friday. The 2020 C-USA football schedule continues to call for each of the league's teams to play eight conference games on their originally scheduled dates which means the Blue Raiders will open league play at Old Dominion, Sept. 26.
The C-USA Championship remains scheduled for Dec. 5 with the flexibility of possibly moving later, depending on the need to potentially reschedule regular-season games.
When Middle Tennessee faces Army at Michie Stadium it will mark the first meeting between the two teams. The Black Knights are a former C-USA member and are currently one of seven FBS schools whose football teams play as an Independent.