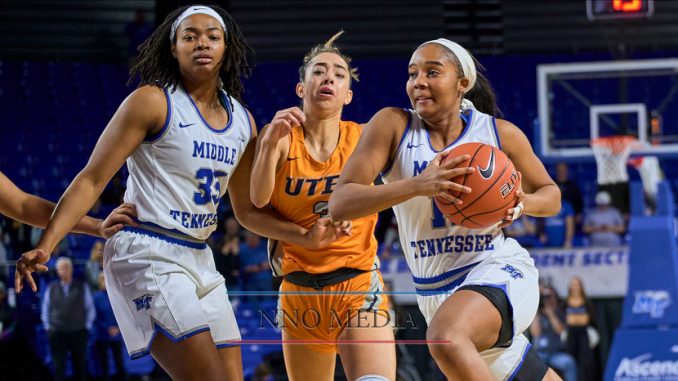 The Middle Tennessee Lady Raiders dominated UTEP Miners downing them 76-60 in their meeting Thursday, January 30, 2020, in Murphy Center.
By the end of the first quarter the Raiders were up by 12 and outscored the Miners in each quarter thereafter, to end the game with a 16 point lead.
"I just thought we played with a lot of heart," MT Head Coach Rick Insell said. "I thought our kids played tough, hard-nosed defense at times and made plays when we needed to make plays."
In the first quarter the Raiders netted 10 of 11 free throws. The Raiders have worked hard to improve their free throw percentage.
"Every day after practice we're working on our free throws," freshman Aislynn Hayes said. "We do a little bit in practice, but mainly it's us working on our own."
Aislynn Hayes led Middle's scoring with a career-high 24 points, this was her fifth game scoring over 20 points this season. She sank 12 of 16 from the charity stripe and grabbed six rebounds.
Taylor Sutton scored 16 points and Anastasia Hayes netted 13 to also lead the Lady Raiders scoring.
The Lady Raiders face the UTSA Roadrunners at 5pm Saturday, February 1, 2020, in Murphy Center.
[Best_Wordpress_Gallery id="57″ gal_title="UTEP at MTSU Women"]