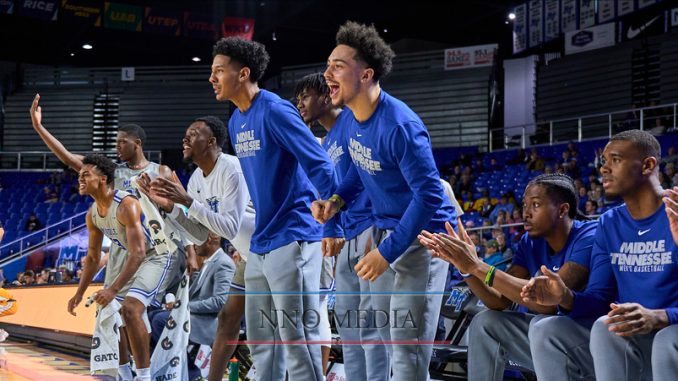 By: Harrison McClary/All Tenn Sports
Middle Tennessee ended an 11 game losing streak downing the Southern Mississippi Golden Eagles 65-63 in a game that tested the Blue Raiders defense.
The Raiders forced 15 turnovers, 11 of them steals, leading to 19 points and 14 fast break points.
"That was a good win, and none of them are easy in league play," Middle Tennessee head coach Nick McDevitt said. "I liked the way we had to win. We were able to withstand an offensive dry spell … and although your heartbeat races up a little more than it otherwise would, I liked the way we won the game."
In a span of about two minutes midway through the second half the Raiders forced four turnovers and scored 9 unanswered points to pull ahead by one point.
Southern Miss sank a three pointer to tie the score with 11 seconds on the clock. Middle drove down the court and Donovan Sims drew a foul with 1.5 seconds remaining. His free throws were nothing but net, sealing the win for the Blue Raiders.
"I put the first one up and knew it was going in, and the second one felt good, too," Sims said. "That felt good for my team.
C.J. Jones lead the Blue Raiders scoring with 17 points, Donovan Sims had 13 and Antonio Green netted 9 to lead the team in scoring.
Middle Tennessee is on the road next week. They face UTEP in El Paso Thursday, January 30, at 8:00 pm. Saturday, February 1, they face UTSA in San Antonio at 3:00 pm.
[Best_Wordpress_Gallery id="55″ gal_title="Southern Miss at MTSU"]