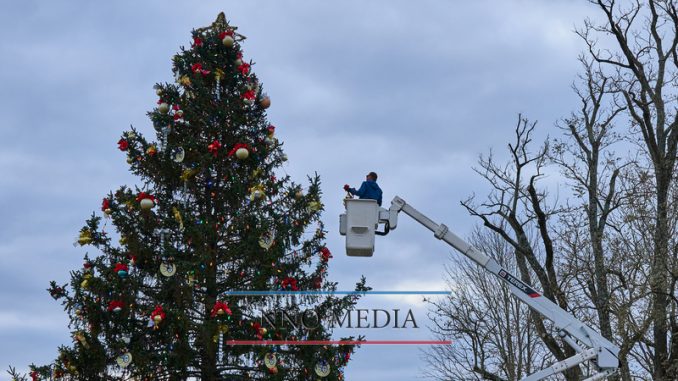 Deanna Lambert: Community Relations Director | City of Brentwood
Brentwood, Tenn. – The Brentwood Mayor and City Commission invite you to attend the 21st Annual Brentwood Christmas Tree Lighting on Monday, December 2, 2019 at 5:30pm at the John P. Holt Brentwood Library, located at 8109 Concord Road. City leaders will speak during the brief program and the Brentwood High School Choir will perform holiday songs. The tree lighting will be next, and the event will conclude with light refreshments inside the library. There will be an American sign language interpreter present at the tree lighting ceremony.
Brentwood Police Officers will be directing traffic into the library parking lot until it reaches capacity or 5pm.    Those who arrive after 5pm will be directed to park at the Concord Park/Civitan Ball Park parking lot, which is adjacent to Lipscomb Elementary School.  The short walking path over to the library will be lighted. This year's tree will also feature special 50th edition ornaments in culmination of Brentwood's 50th year celebration as an incorporated city.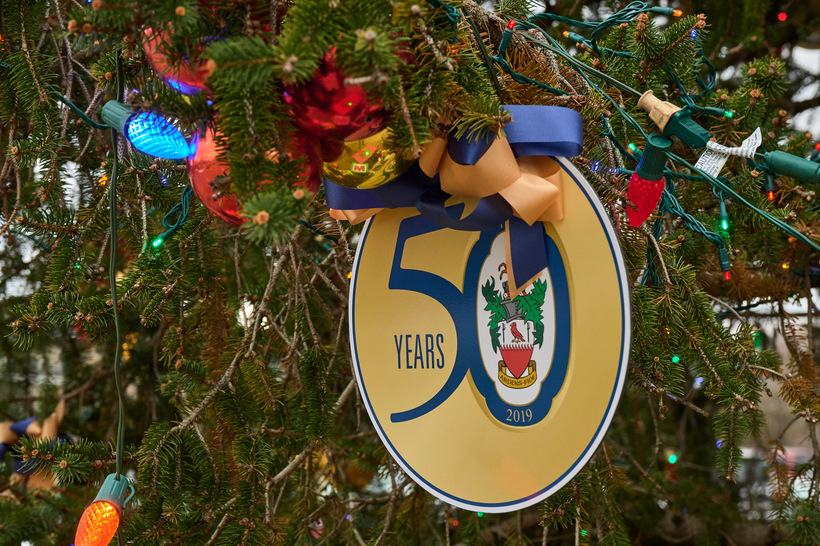 Beginning Monday, November 18, tickets will be available for the 5pm and 6pm readings of The Polar Express on December 2 and the magic shows at the Morning with Santa event on December 7 beginning at 9am. All other activities at the Morning with Santa event are free and open to everyone. Be sure to check the John P. Holt Brentwood Library Facebook page for more information. You may pick up tickets in person at the library.
Brentwood Holiday Events
Annual Tree Lighting – Monday December 2
5:30 p.m. Monday, December 2. Free program and advance registration not required. Join us for the 21st Annual Tree Lighting Ceremony with special dedication by Mayor Rhea Little. The evening is filled with special music, holiday treats, and warm cider. The tree lighting music will be provided by the Brentwood High School Chorus.
LIVE Polar Express Readings –Monday December 2
At 5 p.m. and 6 p.m., there will be live readings of The Polar Express in the Brentwood Library Reading Room. Everyone attending The Polar Express reading must have a ticket. The event is free, but a limited number of tickets are available at the Children's Department in the Brentwood Library starting November 18. There will be an American sign language interpreter at both readings.
Morning with Santa –Saturday December 7
9:00 a.m. – 12:00 p.m. Free program, but advance tickets are required. Magician Scott Humston will amaze and delight with his fascinating magic and hilarious showmanship with shows at 9:30, 10:30 and 11:30 a.m. Enjoy refreshments, face painting, music, giveaways and of course, Santa Claus.
Brentwood Luminaries –Saturday December 7
Dusk – 9pm — Saturday, December 7 is the official night to display luminaries in your neighborhood. The city sets the date, but each Homeowner Association plans the details. To be on the safe side instead of using candles, try using glow sticks or flameless candles. In the event of rain or inclement weather, the luminary date will be Sunday, December 8. Each neighborhood, usually through its Homeowners Association, makes the final decision on luminary postponement.
Additional details on these events can be found here.