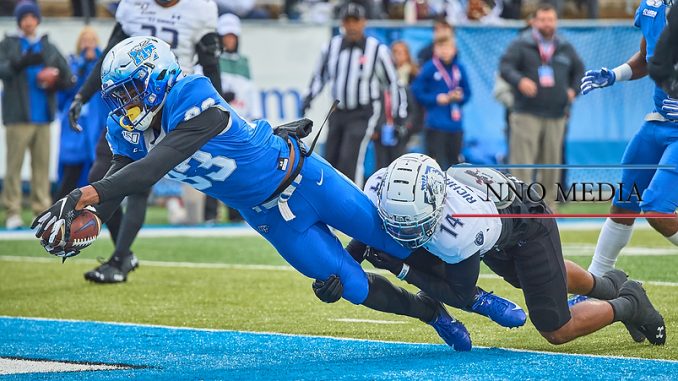 Harrison McClary/NNO Media
Middle Tennessee won in convincing fashion over Old Dominion Saturday night at Floyd Stadium in Murfreesboro 38 – 17.
"It was good to finally get a win. I thought we played really well in the first half. We weren't as sharp offensively in the second half. We did a lot of really good things. We started fast and did a nice job defensively. We held them on downs a couple of times in the second half. I thought our guys really played hard. They played with good effort and played smart. We protected the ball. I'm proud these seniors can walk off this field a winner." Head Coach Rick Stockstill on the win.
[Best_Wordpress_Gallery id="34″ gal_title="MTSU-ODU"]
Asher O'hara and Jimmy Marshall combined on two passing plays in the first quarter for 14 points.
In the second quarter Chase Cunningham found Jarrin Pierce for a 57 yard touchdown. Middle also scored on a six yard run by Terelle West. They entered half-time up 28 – 10.
Kylan Stribling picked off a pass and returned it 38 yards for a touchdown in the third quarter. Middle also scored a field goal early in the fourth quarter to finish the game 38-17 over Old Dominion.
Next weekend the Blue Raiders face Western Kentucky in Bowling Green. "We have to be ready. They have a good defense, their quarterback's playing well, they have really good skill guys and they're healthy. That's our biggest issue right now. We lost two more starters today. The hits keep coming and it's been a frustrating year from an injury standpoint. We have to get ready to roll and find out who's going to be ready to play." Coach Stockstill on looking ahead.