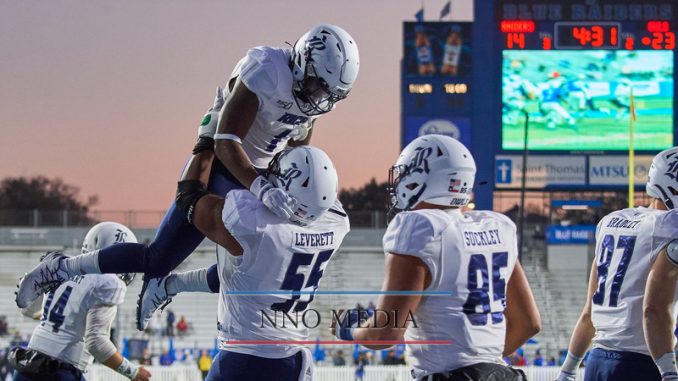 Harrison McClary/NNO MEDIA
Middle Tennessee entered Saturday's game knowing they needed to win to keep bowl hopes alive. It seemed like an easy thing to do, Rice had not won a game all season.
Rice started the game off fast and furious, forcing a fumble to score a field goal, then moved the ball well the entire first half, racking up a 31-14 lead at the half. The closing minutes of the half summed up Middle's frustrations quite well. With seconds left on the clock, Rice scored as quarterback Tom Stewart tossed a long fade pass to Brad Rozner in the end zone. Middle put together a good drive into Rice territory. A penalty was called after time expired that resulted in a no time on clock play. O'Hara looked deep and threw an interception.
[Best_Wordpress_Gallery id="32″ gal_title="Rice at MTSU"]
If you would like to purchase images for editorial use on your website or publication please go here.
Middle Tennessee head coach Rick Stockstill said "We stunk it up. Give them all the credit in the world you want. It was a bad offensive performance and a bad defensive performance. There's no way to sugarcoat it or say other than it was a bad first half. In the second half we played a lot better offensively and defensively. I wish we could've gotten a stop on third down there at the end but we couldn't."
Looking at the game stats Middle Tennessee had more total yardage, more first down, failed to convert on third down 3-11 tries and had less time of possession.
"We need to get a lot better these next two weeks. We need to finish the year the right way. We started it out, now we need to finish it. I don't have any doubt that this team can finish. Old Dominion is going to be fresh coming off of a bye, so they'll be ready to go and we'll make sure we're ready to go." Stockstill on looking ahead to the rest of the season.