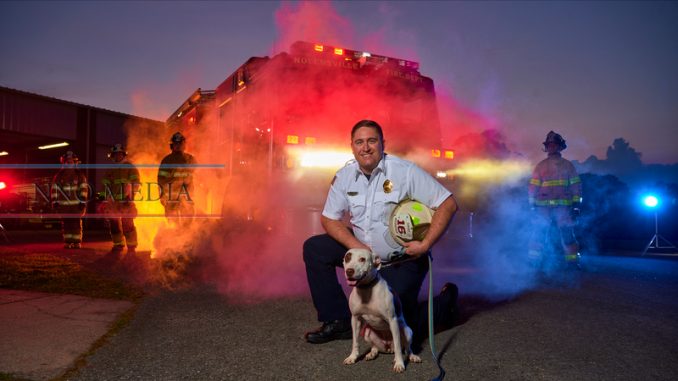 Faren Maree/News & Observer
I have spent countless hours throughout my life getting to know firefighters, but I've never met one that has the passion for a community as Chief Adam Spencer does. Happily, I had the chance to sit down with him just a month after becoming Chief and I was overwhelmed with his love for this city and its residents. Let's get to know Chief Spencer and the team better shall we?
To say that Adam wanted to be a firefighter as a young boy wouldn't even come close to describing it; his first words were "fire truck". If that is not dedication and passion I just don't know what is. Adam has been in the fire service for almost 20 years but when he speaks about his career it still is fresh and vibrant to him. He wanted to be a firefighter so much that he started as a junior firefighter with the Explorers back when he was fifteen and became a firefighter right out of high school, having achieved his certification just after his diploma. Soon after starting the job Adam realized he needed to become an Emergency Medical Technician and it was in that study where he fell in love with the patient care side of the job. Serving his community in Missouri led to incredible experiences and many friends, which you'll hear more about below. After three and a half years in Missouri as a firefighter/paramedic, Adam moved back home to Tennessee. He had been working full-time as a firefighter but after his father's passing, six years ago, Adam resigned that position to take over his family business. Three years ago he started working part-time as a firefighter paramedic for Rutherford County and was so excited to be able to be back at his dream job. Now he is the new Fire Chief for a city of over 11,000 people and still just as passionate about firefighting as he was as a child.
What made you decide to become a firefighter?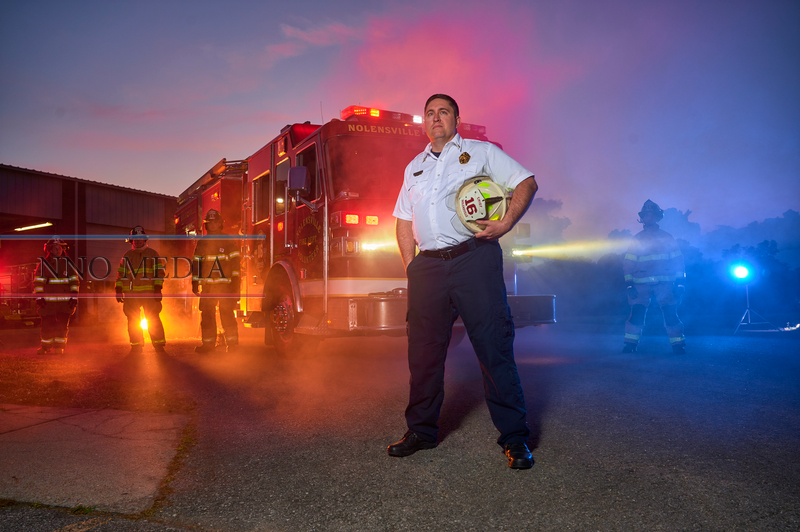 I truly believe everybody in life has a purpose and that God created them for a reason. I firmly believe the reason for my creation was to be a firefighter/paramedic. It's one of those things where I'm willing to sacrifice my time and myself because I want to make sure that somebody is going to be there to answer that 911 call.
Who in the fire-service has had the biggest impact on you?
There have been many over the years, but three who come to mind are; Dennis Reynolds, Deputy Chief of the Battlefield Fire Protection District in Springfield, Missouri. Dennis was my Chief at one point and is the definition of a leader. He's humble, he's passionate about the job and he cares about every single person under his employ and knows about them, and their families. There are few people in my career that I could tell you earnestly, if they told me to go into a house fire because it was "safe" I would trust their judgment. Dennis has also become a great friend over the years and someone I can call on when I need help. The second is Larry Sloan, Shift Commander and Captain at Rutherford County Fire & Rescue. Captain Sloan has a great sense of humor, is competent in his job, and is a firemen's fireman. Most importantly though, if he told me to "get after it" I would trust him because he knows what he's talking about. Finally would be my first boss as a Paramedic, Fred Savage. I have never met a more compassionate leader and incredible paramedic. Someone so passionate about the job it simply spills out of him. He motivated me and taught me so much about what it meant to be a Paramedic and I still keep in touch with him some 11-years later.
Recently a Canadian firefighter rescued a cougar from a tree. What is the most unique animal rescued by you or your department?
We have had a few interesting rescues lately. A German Shepard puppy got his head stuck in a baby gate and a Labradoodle recently turned a stove on and almost set the house on fire. While our neighbors, like
Murfreesboro Fire, are known for their duck rescues, we don't have an animal we're known to rescue yet.
What is the most memorable incident you have been involved in?
I was storm chasing the day of the Joplin tornado* with my Supervisor and friend David Toner and was in Joplin when the tornado went through. We went home to prepare to deploy but my ambulance service was part of the first Strike Team in, we were the first arriving First Responders that did not live in Joplin. The tornado hit a nine-story hospital, and it went through the center of town destroying several fire stations. We spent the next three weeks searching for victims, transferring patients to other area hospitals, and just helping take a load off of their local firefighters and paramedics so they could heal with their community.
*The EF5 tornado hit Joplin, Missouri on May 22, 2011 killing 161 people, five of which were in St. John's Regional Medical Center who died as a result of backup power outages. The tornado destroyed part of their nine-story hospital and traveled down Main Street causing even more widespread and catastrophic destruction within the heart of the city. It is believed that many residents did not head the initial sirens, which resulted in the large number of deaths.
Is there a fallen firefighter whose memory is still with you?
I have unfortunately lost four friends in the line of duty, two very tragically. They were all volunteers as well. Most notably Corporal John Anthony "Jay" Sampietro, Jr. who was a Missouri State Trooper and also a Captain with the Logan-Rogersville Fire Protection District. He was struck and killed on the side of the interstate while working an accident. His death was heartbreaking. Another friend and colleague tragically lost was Lt. Matt Blankenship with the Marshfield Fire Protection District. Matt was caught in a smoke explosion in a house fire and was severely burned as a result. Unfortunately, he succumbed to his injuries a short time after. He was a part of the local fire department where I first became a Paramedic and was simply a very genuine person who cared about his community.
Tell me about the men and woman who serve with Nolensville Volunteer Fire Department?
These men and women give hours upon hours of their time. They have probably been here for sixty-hours this week alone. They could be out there drinking, partying and getting wild but instead they want to serve their community. The people that are serving here are the heroes.
This department would not run with just me, this is not the "me" department this is "our" department. Ryan Gaffney is a new graduate of Tennessee Fire Service & Codes Enforcement Academy. I couldn't be more proud of him. Ryan went through sixteen-weeks of academy and also runs his own business so he made a huge personal sacrifice because he loves this job. He's now a career firefighter with Murfreesboro. Makinnon "Tapeworm" Myers is celebrating a year with the department and practically lives here, he works so hard. Makinnon even went into his first house fire we had here recently. Sophie Fuller chooses to mop the floors every single day because she wants the station to be clean when guests visit. She recently got her Advanced EMT license. Many of our staff are working towards getting licensed, and we are recruiting people who already have one. Four of our team members are EMT certified, we have two Paramedics and roughly forty firefighters, some of them career firefighters as well.
If it weren't for these people, who put in the training hours and the time, we wouldn't be the department we are today. They take pride in serving Nolensville and I take pride knowing that. l think a lot of people volunteer because there is no greater feeling in the world than knowing when you step off that truck you get to help someone. These men and women are my family, and I'm proud of each and every one of them.
How can we help the Nolensville Volunteer Fire Department?
Donate money! The money that is donated funds our operations, including apparatus, equipment, and quite literally, puts fuel in the trucks. It also funds training for our people so we're better prepared to help you. We work very hard to be good stewards of the donations we receive and use them for what we truly believe we need.
Citizens can also volunteer with Box 94, which is manned by people who may not necessarily want to be firefighters, but they want to help. It's a Rehab Services Unit that goes countywide and is dispatched on all house fires. These team members provide water, Gatorade and snacks out of a county provided truck. This helps replenish the calories and re-hydrate those who've been inside the fire. The best feeling after fighting a fire is to see that truck pull up.
What are the most common misconceptions people have about the fire department?
That all volunteers are hobbyists. I take this job very seriously, I push these people to get as much training or even more than career firefighters. Another point is, just because I don't get a paycheck doesn't mean that I'm not a professional and that goes for all of us.
Firefighter Makinnon added to the conversation stating, "Being a firefighter is a very serious obligation and although we are volunteers we still do the same job as paid firefighters do.
We aren't just a group of charismatic people who get to have fun but actually, we have to be very careful. I've learned that once a firefighter gets inside a house, they are walking a thin line; on one side of that line you come out ok and on the other side you don't."
What do you think are the three biggest fire-related needs for the Town of Nolensville today?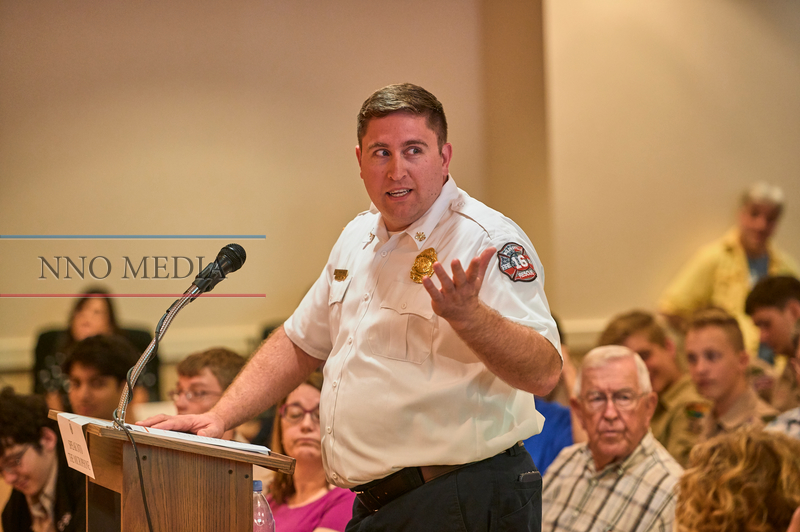 To transition to a combination fire department with some paid staff and another station to help cover the north side of town and the growth.
The department needs to upgrade our equipment and purchase a ladder truck as soon as we can get it.
We need advanced practice protocols with the hospital and emergency medical services. Even for me as a critical care paramedic with two and a half years of education and a college degree, I can only operate on a basic first aid level. Our ability to intervene when an ambulance may be coming from somewhere else, sometimes as much as twenty to thirty minutes away is the difference between life and death. Our ambulance service does an incredible job, but at times there are simply not enough ambulances for the number of calls coming in. It's a problem that's not just local to Williamson County.
What are some things you are working on at the moment?
I am currently working on an Explorer Program to get our high school aged students involved with fire and rescue services in hopes they fall in love with it like many of us at NVFD did. I'm also working on Community Risk Reduction for fire safety; smoke alarm programs, and public education and outreach for things like CPR and AED training.
What would you like to say to the citizens of Nolensville?
We are here for you twenty-four seven, three hundred sixty-five days a year. We will do our dead level best to provide the best protection we possibly can. Thank you for your support, it means everything!
Faren Marée, a native of Miami, Florida, moved to Nolensville in late 2018 from Portland, Oregon. She is a Cuban American and the mother of two fluffy darlings, Duchess Daphne, a Tuxedo kitten and Asta Alastaire, an Irish Setter. When Miss Marée isn't exploring Nashville with her munchkins she is growing her decorative arts business, a new venture after spending almost two decadesin the corporate world. She is known for her love of antiques, classic movies, international food, mysteries and travel. You can reach Miss Marée on Twitter @FarenMaree.