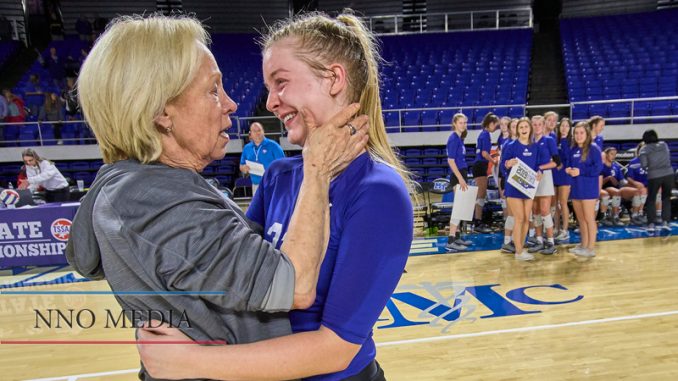 Harrison McClary/N&O
"It is incredible." Brentwood head coach Barbara Campbell was correct in that.  Brentwood won their seventh consecutive state title in volleyball, 15th overall, Thursday night at MTSU's Murphy Center in Murfreesboro, breaking Webb's record of six in a row.  They downed Houston in four sets, 3-1.
Brentwood took the first two sets, Houston rallied in the third to send the match to the fourth set.  Brentwood dominated that set and took their 15th state title, their seventh consecutive.
"It's really been a fun time for me. The whole team is coming back, except for one senior. That one Senior is a special lady, she got MVP of the tournament. She is a gift from heaven. She moved from Chicago last year and was exactly what we needed to complete this team in maturity and leadership, not mention the skill and talent." Said Campbell on the tournament.
When considering their record of 15 titles Coach Campbell said "Brentwood is a special place and I have totally been blessed with incredible players year after year, it's been contagious. I hope it continues. Blessed with an incredible administration, supportive, blessed with wonderful parents who do so much and do everything they can do to help their kids be successful. Incredible assistant coaches. One has been with me for seven years, the other for five. Really lucky coach right now and I feel very blessed."
[Best_Wordpress_Gallery id="24″ gal_title="Brentwood Wins"]