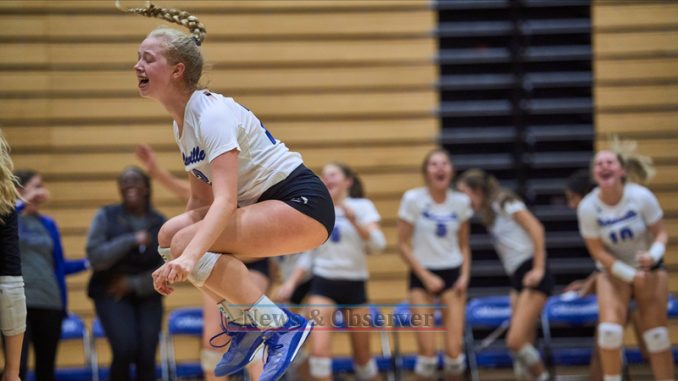 Harrison McClary N&O
Nolensville advances to Sub-State for the third consecutive year after claiming the regional title, downing Hume-Fogg in straight sets at Nolensville High Tuesday, October 15, 2019.   
Photos can be purchased from here.
Nolensville started strong in the opening set pulling out to a quick lead. Hume-Fogg battled back late the set to finish a few points short, losing 25-21. In the second set Nolensville dominated the entire set winning easily 25-7. The third set was a rough one for the Nolensville Knights, who trailed most of the set. They pulled ahead with just a few points left in the match to win 25-22.
Coach Brett Young was pleased with how the team played during the tournament saying: "The first game East Nashville was in a tough spot, we came out and played really, really well and kinda overwhelmed them a little bit. That was nice for us to get that one done pretty quickly and sit back and watch Hume-Fogg and Lawrence County play for a couple of hours. I thought we came out strong against Hume-Fogg. In set one we kinda let them get back into it a little bit, but did a good job of finishing. We played really well in set two. I kinda liked to see where we were in set three having to come from behind and facing a little bit of adversity. You wanna go on and take care of your business you don't want to go to that fourth set. So it was really good to get it done in the third set."
Looking ahead coach Young hopes the Knights can check off the goal of making the state tournament with a win in the sub-state match Thursday evening: "We don't know who we are playing yet, but it will be a good team.  We are glad to get to host on Thursday night and a chance to go to state tournament with a win on Thursday.  This is the third year in a row we've made the sectional match but not taken that next step yet, and that is the next goal that we are hoping to check off our list, to get to the state tournament.  We think we have a team that can do that."
Nolensville hosts the sub-state game Thursday and will face District 12 winner Camden.