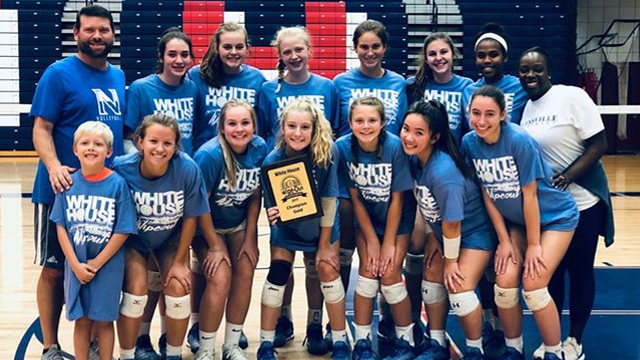 Article Submitted by Jessica Patton
The Nolensville Volleyball team is off to a great start this fall. After the first 3 weeks of the season, the Lady Knights have a 15-1 record with their lone loss coming to AAA power Ravenwood in the 3rd match of the season. Included in the 15 wins is a perfect 6-0 match through the White House Wipeout Tournament last weekend as the Lady Knights brought home the title defeating a quality Goodpasture squad in the finals.
Nolensville has no seniors on their roster so they are led by a strong Junior class. Captains Charley Fulton and Lauren Starcke provide great leadership for the team and junior setters Avery Patton and Maddie Donahue direct the Lady Knight attack. Caymin Ladd and Jazmyn Jenkins are a formidable pair in the middle, while Lourdes Doyle provides great energy and versatile play. Avery Young, Maymie Guthrie and Sydney Bloedorn are part of a strong Sophomore class that play huge roles for the Lady Knights are big keys to the teams success. Two freshmen, Caroline Johnston and Maggie Rickert also play key roles for the NHS varsity squad. Watch out for this group of Lady Knights on the court… The present and future of Nolensville volleyball is very bright indeed!