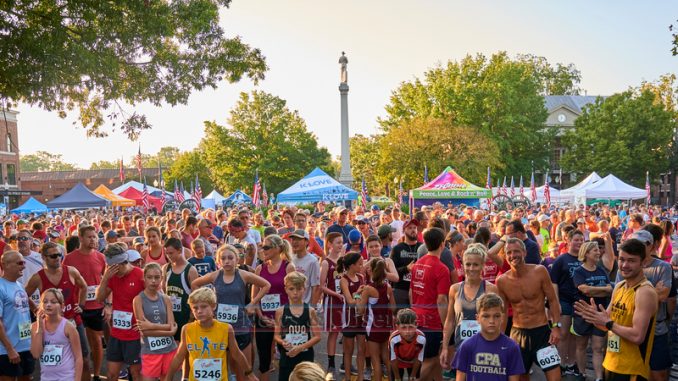 Harrison McClary/N&O
Early morning Labor Day, downtown Franklin was a beehive of activity as nearly 4,000 people gathered to participate in and watch the races of the Franklin Classic.
Photos can be purchased from here.
The square was filled with people listening to music, children getting their faces painted, playing in bounce houses, and eating at the food vendors. Live music was provided by student bands from The School of Rock.
The race has been a Labor Day tradition for 41 years, raising funds for Mercy Community Healthcare. When the first race was held, they were running to raise funds to combat cancer. Then, about 20 years ago, they switched to support Mercy. This year the race raised over 80,000 dollars.
"I enjoy working with the race because it is a family friendly long standing tradition for many families on Labor Day, and I love the reason for why we host it. We want to care for people in our community. People come out and enjoy the morning and raise funds for Mercy." Kristi Sylvester, Mercy Director of Marketing, Events & Development
Mercy Community Healthcare started as a Children's Clinic in 1999. They later became a federally qualified health center and began seeing adults as well. They now see over 10,000 patients annually.
Results are posted here.
You can visit Mercy Healthcare on the web, visit the Race Website, and follow them on Instagram and Facebook @mercycommunityhealthcare and twitter @mercyinfranklin