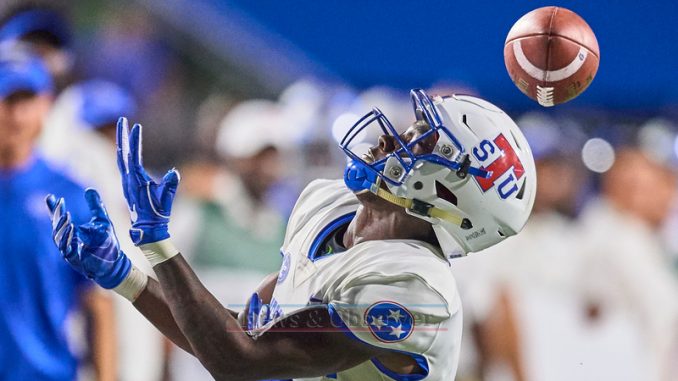 Harrison McClary/N&O
Middle Tennessee's Asher O'Hara had a record setting night as he led the Blue Raiders to a 45-26 win over Tennessee State University Saturday, September 7, 2019, in Murfreesboro, Tennessee.
The first half started off with both teams playing a defensive game. TSU scored an early touchdown, but the point after was blocked by Middle. In the second quarter Middle put 10 points on the board to go into half time with a 10-6 lead.
The second half saw both teams turn up the offense with Middle putting 14 points on the board in the third and TSU 13.
By games end O'Hara had set a record, being the first player in Middle history to  to throw for 300 yards and rush for 100 in the same game. He finished with 367 yards passing, completing 22-of-30 throws with four TDs and an interception, and added another 103 yards rushing on 11 attempts. Middle racked up 604 total yards on 58 plays for a 10.4-yard average. This was their first time going over 600 total yards since Nov. 26, 2016.

Nine Blue Raiders caught at least one pass, and three finished with more than 60 receiving yards. Jarrin Pierce finished with five catches for 74 yards and a touchdown. Ty Lee and CJ Windham both had 64 yards and a TD. Chaton Mobley added 104 rushing yards on nine carries with two TDs, all but 1 yard coming in the fourth quarter.

Defensively, linebacker Khalil Brooks had eight tackles, one for loss, and defensive end Tyshun Render had six tackles, one for loss, and a batted pass.

Middle Tennessee will stay at home September 14, when the Duke Blue Devils make their first trip to Murfreesboro for a 6 p.m. Saturday kickoff.