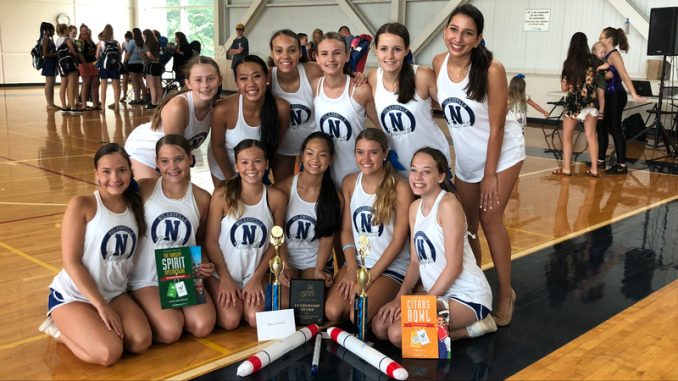 Wendy Vasquez/Competitive Dance Team Director of Development
Thirteen young local women train and rehearse more than 130 combined hours each week for a shared passion: Dance. To say these ladies are elite athletes is accurate, but that description doesn't fully encompass their abilities. The members of the Nolensville High School Competitive Dance Team strive to perform with power, precision, and physical endurance while simultaneously connecting emotionally with audiences. It is these characteristics that describe championship dance teams and that is exactly what this local team has their sights set on.
At Nolensville High School, the Varsity Dance Team boasts eighteen bright young dancers who entertain the fans at the Knights' home football and basketball games and pep rallies. Within this group, auditions are held and a competitive team is then selected. The Nolensville High School Competitive Dance Team is only beginning its second year, but excitement is building for the upcoming season. The team, coached by Katelyn Price, a guidance counselor at NHS and a former UDA All American dancer, along with choreographer, Chelsie Walker, was honored last fall at the 2018 Tennessee Secondary School Athletics Association State Dance Competition as the Third Place State overall winner in Small Group Varsity Jazz. "Our team was thrilled to have such a strong showing in their first appearance at States. It exceeded all their goals and expectations! Tennessee high school dance teams dominate national dance competitions, and our girls knew they were competing in the same category as Farragut High School, the defending National Champion. (Farragut repeated that title again this past February.) Last year's success at States and knowing that they are competing against the best of the best in their home state has motivated our team to start the quest for Nationals earlier this year!" says Rhonda McKissock, President of the team's board of directors. Rehearsals are well underway for the team's appearance at the upcoming 2019 TSSAA State Dance Competition at MTSU this November.
Just last month at the regional Universal Dance Association training camp at the University of Alabama Huntsville, the NHS Competitive Dance Team was ecstatic to be awarded a highly coveted bid to the prestigious UDA National Competition this coming January in Orlando, Florida. The team also garnered first place honors for their "home routine," a performance choreographed and prepared in advance of camp, as well as a Superior Trophy recognition for earning 36 blue ribbons during the week, a Leadership Award, and an invitation to perform at the Citrus Bowl. "Learning how to communicate with each other in a positive way has gotten us super far and has brought us closer as a team. This was a goal we set and worked on at UDA Camp. Stronger communication skills is one of the best life lessons I've gained from this team," shares Katie McKissock, the group's only senior member this year.
UDA Nationals will be held at the ESPN Wide World of Sports Complex at Disneyworld and is the only national-level dance team championship that is endorsed by the National Federation of State High School Associations, the national service and administrative organization for high school athletics and fine arts programs in speech, debate, theater, and music. It is truly an experience of a lifetime. Emma Boualaphanh, a freshman, states, "I am most excited about performing on a national stage…considering that Nolensville High has only had a competitive team for two years, this is a phenomenal opportunity for our team. Competing with this group of girls is genuinely an incredible experience. I am inspired by the exceptional dancers on this team every day."
Earning the invitation to compete among the nation's finest is the first challenge, but the next hurdle is financing the trip. In order to pay for the entry fees, airfare and accommodations, the NHS Competitive Dance Team is working tirelessly outside of the rehearsal studio to fundraise. There are several upcoming opportunities for the community to show support for these young ladies.
Coming up on Saturday, August 24th from 1 to 4 pm, area kids (kindergarten through 8th grade) can participate in the team's Fall Dance Clinic held at NHS. No previous dance experience is required, and attendees will learn a short routine, practice with members of the dance team, then enjoy the thrill of performing on the fifty-yard line of the Knights' football field during the pre-game festivities at the season home opener on Friday night, August 30th. Avery Vasquez, a junior, is excited to invite everyone to the dance clinic. "I remember when I was younger, all I wanted to do was go out on the field and dance. I looked up to the high school dancers so much. It's really rewarding now to be the ones teaching these little wide-eyed kids a routine knowing someday soon they will take our place. It's so cool to have that influence with them and share my energy and love for dance." The registration fee is $50 and includes a clinic T-shirt if registration is submitted by August 17th. Additional siblings pay $45. Walkups are absolutely welcomed on the day of the clinic, although T-shirts are not guaranteed. To sign up, send an interest email to NHSCompDance@comcast.net.
The team is also seeking sponsors. Donations of any amount are appreciated. Some available benefits of sponsorship include football stadium fence banners, recognition on dance clinic T-shirts, digital ads on the gymnasium scorer's table, among others. The NHS Competitive Dance Team is a 501(c) (3) non-profit organization. For more information regarding sponsorship options, please email NHSCompDance@comcast.net.
If you would like to follow along this season with the NHS Varsity and Competitive Dance Teams, check out their Facebook profile and their Instagram account @nolensvilledanceteam. And of course, to enjoy a performance in person, don't miss the Nolensville Knights in action at home football and basketball games.