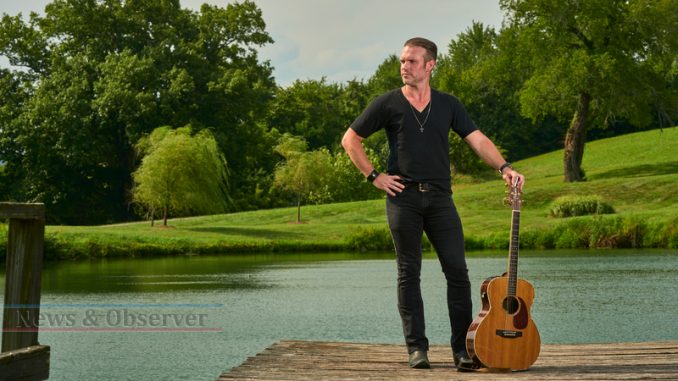 Shelly Gail Morris
N&O
You can find Nolensville's songbird, Stevenson Everett, on the stages of downtown Nashville, singing for tips, crooning the crowd favorites and mixing in a few of his original songs. But he's more than just a singer. He's a dedicated husband, father, son, brother, writer, performer, musician, marketer, merchandiser, tour booker, schedule organizer, fund raiser, social media shark, concert promoter, image consultant, public relations manager and princess party planner. With all those responsibilities, he still finds time to compose original lyrics with heartfelt melodies. Someday, he hopes to be the first country music artist without a record label to win a CMA. And I would say, that goal is right on track.
Stevenson was born in Louisville, Kentucky but the family quickly moved to Baton Rouge, Louisiana. Both of his parents studied music at Louisiana college, and his Father was a minister of music at the local Baptist church. Because there was always music in the home, Stevenson sang as soon as he could speak as did his three younger brothers. His parents sang duets and often involved him. The family moved to Thomasville, GA. when he was in the first grade. He made a significant new friend, Christina. In high school Stevenson was in the band and the show choir. When he joined The Thomasville Music and Drama Troupe, he truly realized his love of performing, and learned to sing and dance in front of a live audience. The experience was invaluable.
In 2000, Stevenson attended Belmont University in Nashville, majoring in music business. This began his writing career and fueled his imagination. He recorded his first album, "Southern Soul", on campus in 2004. It generated quite a buzz. His second album, "Restless" was released in 2005. He signed a deal with Garth Fundis in 2007, and it felt like his career was taking off. He married his longtime, Georgia girl, Christina in Franklin, TN. and moved to Nolensville. Unfortunately, in 2008 the funding was pulled for his deal. He sang at all the clubs in Nashville and even waited on tables at
Opryland Hotel to make ends meet.
He was cast on the Country Music Television Show, Next Superstar in 2011 and his career gained momentum.
Sophia Rose was born. He released his third album, "Miles To Go," in 2012. The song, "Sophia Rose", about his daughter, was very popular with fans. He toured two years. In 2015 Scarlett was born, she also has her own song! He came up with the idea of a Listening Tour. For a fee, he will come to your home and entertain your friends or family with an intimate performance, revealing all the stories behind the lyrics. He'll take requests and provide a full evening of live entertainment and enjoys doing these quaint shows. He has traveled the entire United States performing in living rooms and small venues.
In 2016 he signed a second publishing deal with Neon Cross, Jay Joyce and released, "Born With It." After the funding fell through, he found himself starting over at thirty-five. Having been in Nashville for seventeen years, writing over five hundred songs, performing in over two thousand shows, it seemed a daunting task -but he could still hear the melodies in his mind, the music he had yet to play, the songs he had yet to write. He refused to give up.
In May of 2018, without a record label Stevenson turned to the Kickstarter program to fund, "Ballads and Blues", with producer Curt Gibbs. He pledged signed copies of the album, signed headshots, personalized notes, framed lyrics and producer credit to finance the project. He received over sixteen thousand dollars from loyal fans. Fall 2019 watch for a new album, "The Last Troubadours."
He writes songs about everyone around him. His daughters have their personal songs. "Bury me in Louisiana," is about his father, "Hey Mom," is for his mother. He has a new song currently blowing up on Spotify called, "Summer Nights in Georgia." On July 26 the song, "Things You Hate, Things I love," will be released. This melody is for his wife. His "Garage Concerts" are popular on You Tube. Check it out.
He also performs at Nolensville's, Living Room concert venue, Buddy's Place. He has been involved in seventeen shows. Buddy Norris said, "Stevenson is a pro and knows how to charm and read a crowd. We've had people travel from Ohio, South Carolina and Alabama just to see him play. He is a gifted singer, vocalist and performer! He's truly one of the best around." I couldn't agree more.
All business aside, I saw Stevenson sing at Buddy's Place in January and was astounded by his velvety, bayou sound. I attended a couple of shows at Tequila Cowboys and was again awed by his talent. He can rock the cover songs, but it's his original tunes that fill the room with charm and mystique. It's clear that those melodies are dear to his heart. He was truly blessed with the gift of storytelling in a song! His star quality is real, and his dedication is more than most of us will ever understand. Go see a show. You won't be sorry.
You can find his music on Spotify, Facebook, iTunes, You Tube, and Instagram and www.StevensonEverett.com. I wish him success in this difficult journey and look forward to hearing him again soon. He explains the path he travels perfectly —"The melody in my mind calls me, keeps reminding me that I still have a voice, that I still have songs to sing, that I still have something to say.
That I was born to do this."
By. Shelly Gail Morris–wife, mom, novelist, journalist,
cat rescuer!