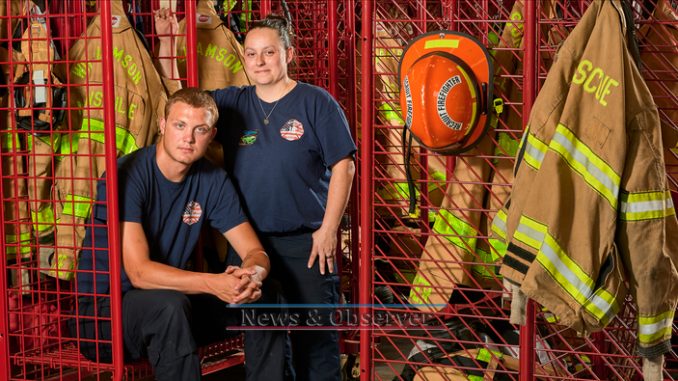 Harrison McClary/News & Observer
Nolensville Volunteer firefighters Amber Fox and Connor Patton were planning on a relaxing, and fun Fourth of July, celebrating with family and friends at a friend's house for a cook-out/pool party. It did not turn out as planned. Early in the party a young child, Nate, experienced a water emergency and the two NVFD members used their training to save his life.
Connor, age 19 and one of the youngest members of the NVFD, describes the events as he experienced them:
I had just gotten to the party and gone around back and was talking with Nate's mother and the homeowner. I was facing the pool and they were facing me. I did not know the child and thought he was just playing.
The homeowner did not hear Nate splashing and asked "Where's Nate" He had gone underwater, and was just floating there. His mom quickly swooped him up, and like any parent was very upset and didn't know what to do.
I calmly said "Let me take him" I started compression on his back to get the water out of his lungs. He quickly started to cough up the water. He wasn't necessarily responsive, but he was breathing again, and that was a good sign.
At that time Amber had come back around the house, she has a lot more medical training than I do so I handed him off to her and talked to the dispatchers.
Amber describes the events as she experienced them:
I was at my vehicle; everyone was getting ready to get in the pool. I was getting some things and heard everyone calling my name, and when I say calling, I mean screaming. I did not know what was going on,
I was confused.
I came running around to the back of the house and saw Connor with Nate, the three-year-old boy who had drowned, over his knee.
I took over and did some sternal rubs to see if he would respond to pain. I was about to move him to the grass to start CPR on him when he started moaning. His face was pale, his lips were blue, he was not breathing.
He was unresponsive.
When I did the sternal rubs, he started to come around and started moaning. He finally opened his eyes and started breathing. He started freaking out, I think he thought he was still under water.
The homeowner was calling 911. He was screaming on the phone and the dispatcher was asking him to calm down. When I took Nate from Connor, Connor took over the call and calmly explained what was going on.
An ambulance was dispatched, and they transported Nate to Williamson Medical then to Vanderbilt for observation. By the time the ambulance arrived Nate was coherent, breathing, talking and pretty much back to his normal self.
The whole incident only lasted about 5 minutes, and the child was underwater maybe 45 seconds. The pool was an above ground 4 feet deep pool, but Nate is only about two feet tall.