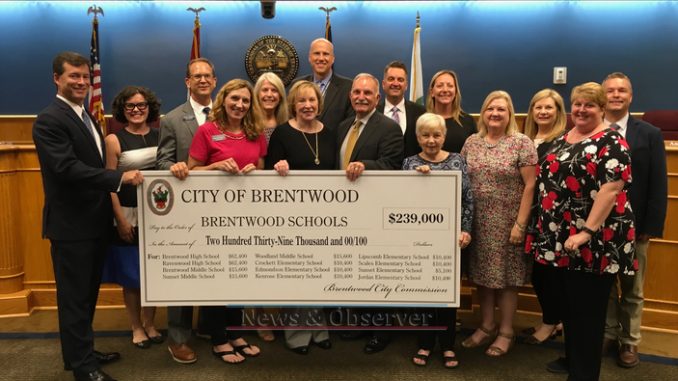 Deanna Lambert/Community Relations Director | City of Brentwood
For the past 33 years, The City of Brentwood has awarded more than $5.8 million dollars to Williamson County Schools that serve Brentwood students. Schools use the money for non-recurring costs such as books, technology, and special projects like the Computers on Wheels program. The City also provides annual support to local recreation and community service providers and this year added Mid Cumberland Human Resource Agency to its list of those receiving funding.
At its regular City Commission Meeting on Monday August 26, 2019, the City presented representatives from twelve Brentwood schools with checks for $239,000.
In attendance at the Monday night regular City Commission meeting were Williamson County School Director Dr. Jason Golden and School Board Member Shelia Cleveland, as well as several school principals and representatives. "We very much appreciate the ongoing support of the Brentwood City Commission, both financially and in so many other ways" said Golden. "This financial support supplements academics, the arts and athletics for these schools and their students."
Brentwood and Ravenwood High Schools received $62,400 each while Brentwood, Sunset and Woodland Middle each received $15,600. Crockett, Edmondson, Jordan, Kenrose, Lipscomb, and Scales Elementary schools were also awarded $10,400. Sunset Elementary was awarded $5,000 due to its percentage of Brentwood students enrolled.
Also, at Monday night's meeting, the City presented three recreation service providers and two community service providers with a total of $105,250. For the first time, that amount also includes $3,250 to the Mid-Cumberland Human Resource Agency, which serves senior citizens and other home-bound residents in our community. Executive Director Jane Hamrick requested city support earlier this year and explained, that "services offered by Mid-Cumberland Human Resources Agency have proven to impact lives, maintain dignity, and allow many to live at home longer." City Commissioner Anne Dunn said the extra funding will help improve services to the Brentwood residents served. "These contributions to service providers are just that," Commissioner Dunn said, "money provided to groups which provide services in lieu of the city having to do it. This serves the residents' needs and saves tax dollars in terms of staffing costs and time."
Center Director, Jodi Theobald at the FiftyForward Martin Center, explains they use the money to provide programs and services that encourage active engagement, connection, and promote lifelong learning for older adults. "The Center creates a second home for many members where they spend time with friends and participate in programs, activities and volunteer opportunities," said Theobald.