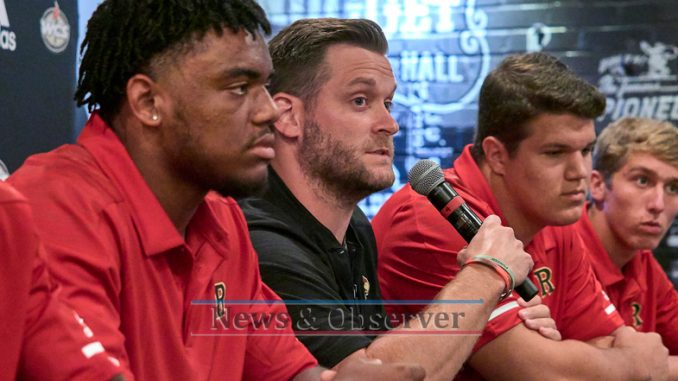 Harrison McClary/News & Observer
RHS coach Matt Daniels expressed how the goal of the Ravenwood Raptors in the upcoming 2019 season is the same as it was last season, to win the state championship.  Daniels was talking before the media at the WSC Sports football media day Wednesday evening at MAFIAoZA'S in Franklin.
Photos can be purchased from here.
He said that he thinks region 6 is the toughest in the state and that his team is working hard to make it those last few steps to the title this season.
"Our goal is to win the state championship. Our internal expectations have not changed since I took over in 2017, and that is to win a state championship. Ravenwood is a state championship program and we are going to do everything in our power to do that."
In spring workouts we had tee-shirts with the raptor head next to the words "24 More".  This is our theme this year, it reflects the White Haven playoff game in the semi-finals.  We were up 24-10 at half yet lost the game.  We are using that as motivation this year.
This is one of the most experienced teams we have had, with many three year starters. These kids have been through a lot, including the split when Nolensville opened.