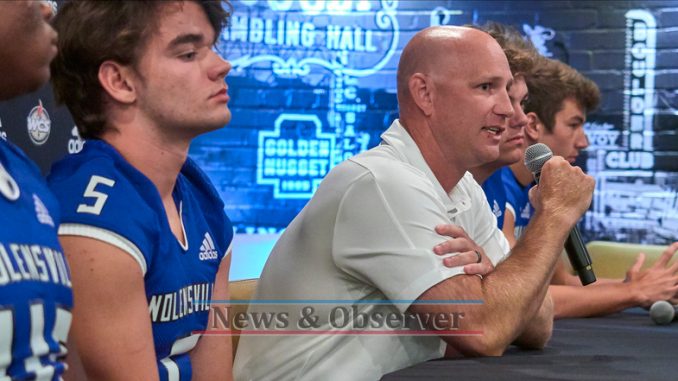 Harrison McClary/News & Observer
Nolensville High's football coach Paul Derrick discussed the upcoming 2019 season at the WSC Sports football media day Wednesday evening at MAFIAoZA'S in Franklin.
Photos can be purchased from here.
The Knights are entering their third season as a varsity program. Several seniors graduated in the first senior class last season, and they are looking to replace them with younger students who are excited about stepping up to fill the void.
In discussing the short history of the team Derrick commented that the team began the first year playing freshmen and sophomore JV, so they have come a long way. Their numbers are as big as they have ever been, and they are looking forward to taking the next step this season.
As part of building the culture of the team they have instituted a leadership council, this is a process where the students work to make the team a player led program.
Looking ahead he commented that the challenges facing the team would be opening day, as a young program it will be important for the team to quickly get up to speed and for the kids to reach their potential quickly to have success.