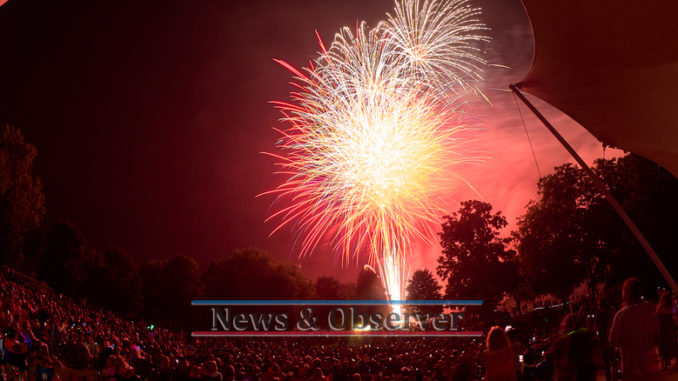 Harrison McClary/News & Observer
Red, White and Boom in Brentwood was a smashing success despite a day filled with clouds and thunder storms. 
Photos can be purchased from here.
Throughout the earlier part of the day a round of thunder storms moved through the area, causing many to wonder if the event would be held.  However; the storms moved out just in time for Paul Ross and the "The Kadillacs" to take the stage, entertaining the growing crowd with their trademark sounds.
The bowl in front of the Eddy Arnold Amphitheater was full, crowds filled the soccer and football fields and along area roads.  Those who ventured into the park enjoyed the food from several food and desert trucks.
When the Kadillacs played YMCA the crowd filled the dance floor and danced along with them, making the classic YMCA hand gestures and singing along.
The night ended with a BOOM as the fireworks display lit up the skies. For a brief time, in the middle of the show, the smoke hung in the sky, temporarily masking some of the bursts, then a slight breeze moved in and dispersed the smoke and the rest of the show was clear.