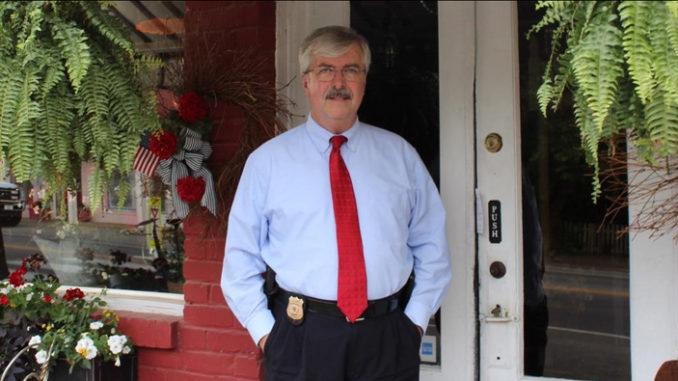 by Faren Marée
This month I had the privilege of sitting down with Nolensville Police Chief Roddy Parker. Chatting with him is a real treat, his passion for Williamson County is contagious. The Chief is known for giving candy to children, having a big heart and knowing just about everyone. It's fair to say that Chief Parker is well liked
in these parts.
Moving from Birmingham, Alabama to Arrington in 1966, Chief Parker "was raised in Arrington before it was cool to live in Arrington." He has over 40 years of service, starting his career with Williamson County at 21 years old. Serving first as a dispatcher, then as a jailer, (now known as a detention officer). After only six months with the department Roddy was asked to start working the road, it was the beginning of an exciting career. During his time with the County he held a significant role as a criminal investigator and captain. In 2017 Captain Parker decided to turn the page of his career becoming the Chief of Police for Nolensville.
What inspired you to go into law enforcement?
I had an interest in law-enforcement from an early age. I watched Dragnet and Adam-12 and played Cops & Robbers. As I got older some of my buddies joined the Franklin Police Department and the County Sheriff's Office which really peaked my interest. They were a year or two older so I had some time to think about it. When I turned 21, I applied to the Sheriff's Office. About six months later they called me and said, "the Sheriff wants to see you." It went like this, "Well, Mr. Parker the job is pretty much yours if you want it. "
CHIEF'S CHOICES
Favorite Donut – Krispy Kreme
Vacation Spot – Williamson County
Football Team – Bama
Must Try – Huff's Grocery ham sandwich
Fictional detective –Frank Reagan, Blue Bloods
You came up through the ranks with a number of very well-known law-enforcement officials in the area. How did they inspire you?
Sheriff Dusty Rhoades came to work for Williamson County in 1979, only a few months after I started there. He came on with a criminal justice degree which inspired me to get my degree as well.
Dusty went to the FBI Academy which inspired me to attend as well. There I met so many wonderful people, many whom I still have a lasting relationship with. In fact, in December 2014, I met up with some of my FBI Academy brothers from New York City and attended a funeral for one of the New York police officers killed in an ambush in their patrol cars. (Officers Rafael Ramos and Wenjian Liu)
What was it like as a sheriff back in the day?
In those days Williamson County was still pretty rural. My days on patrol would be visiting country stores, back when they really were country stores; like Fox Grocery which is still out there in the Bending Chestnut Community. The farmers would gather in the afternoon and visit. It was a really cool time to get to know all the people in the community. Everybody knew everybody.
Patrolling a rural county showed me that people really appreciate getting to know the officer personally, not just a faceless person driving down the road. Those personal relationships are really important to me too.
HEROIC HISTORY:
June 27, 1919 will mark 100 years since the first line of duty death in Williamson County's history, with the tragic murder of Sheriff Milton Harvey Stephens. The 76-year-old sheriff was killed escorting two horse thieves from Nolensville to Franklin jail. During transport the two inmates overpowered Sheriff Stephens, shooting him multiple times with his own pistol and rifle. After leaving him to die on Wilson Pike, they ran off with the weapons in the Sheriff's horse and buggy. One defendant was acquitted and the other found guilty of Voluntary Manslaughter, but Sheriff Stephens legacy lives on.
Favorite Williamson County memory?
There was an older man named Mr. Trice who lived in Cross Keys. He always sat on his front porch and visited with everyone and saw everything. If you were ever looking for a particular car or person in that area you would ask him, "Have you seen so and so?" and he'd gladly tell you "Yes. They go by here at such and such time." Developing relationships like that was really awesome. I love being able to know the people that I serve.
For a birds-eye view of the county and a beautiful sunset, check out Pulltight Hill, south of College Grove.
Why did you choose to serve in Nolensville?
As I started getting towards the end of my career, I knew that I didn't want to move away to accept another position, Williamson County is my home. When the opportunity in Nolensville came up it was like "it's now or never.", this position is a dream come true. I love being able to see the people of this community out and about.
I get a lot of joy from getting to know people and being able to be of service to them. To be able to do a really small thing that make a big impact on a person's life, that's what I feel called to do.
Police officers and firefighters have a well-known sibling rivalry, tell me about the relationship between Nolensville Police Department and Nolensville Volunteer Fire Department.
We get along great and help each other out, and we kid each other a lot. Last Halloween we were sharing at a local day care's Show and Tell. There was one kid dressed up as a fireman. I got a picture of him looking at our patrol car and posted it on Facebook with a quote that went something like, "Dreaming to be the real superhero." I like keeping it lighthearted.
What is a challenge facing Nolensville at the moment?
Growth is everywhere and there's no sign of it slowing down. As Nolensville grows and Nashville continues to overlap our town, we have to be forward thinking and prepare for the things that come with a bigger city.
What do you consider your greatest achievement?
Early in my career I was interviewed by Franklin's The Review-Appeal. If you look at the last paragraph of that article I'm asked "What are your future plans?" and I said "Someday I would like to be a police chief in a small town." Here I am! Nolensville has been good to me, and I hope I've done something to improve or add to the quality of life here.
If there is anything that I have accomplished in Nolensville it is because of the people that I work with. The officers are all great, caring individuals, who really work hard to serve the citizens. They chose Nolensville over other cities and that means a lot. These officers look for ways to make a difference and are proud to be here.
I hope you enjoyed getting to know Chief Roddy Parker as much as I did. When you see him, please say hello, I guarantee you'll learn something new about Nolensville and come away with a new friend.
Faren Marée, a native of Miami, Florida, moved to Nolensville in late 2018 from Portland, Oregon. She is a Cuban American and the mother of two fluffy darlings, Duchess Daphne, a Tuxedo kitten and Asta Alastaire, an Irish Setter. When Miss Marée isn't exploring Nashville with her munchkins she is growing her decorative arts business, a new venture after spending almost two decades in the corporate world. She is known for her love of antiques, classic movies, international food, mysteries and travel. You can reach Miss Marée on Twitter @FarenMaree.