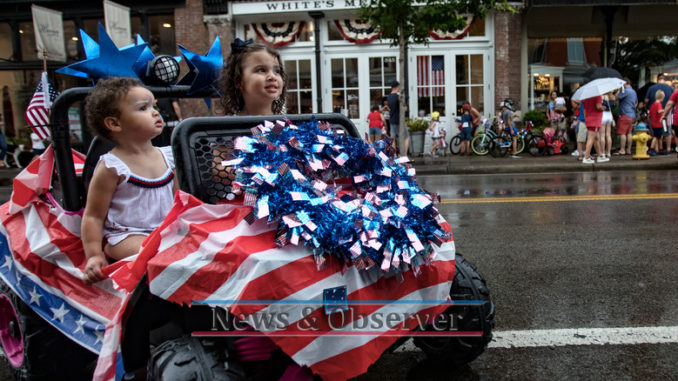 Story and photos by Troy Stolt
Like most Americans with a pulse, the Fourth of July has always had a special place in my heart. Not only is it a day we come together and celebrate how lucky we are to live in this great nation, it's also a marker that tells us summer is at its peak. It's a time for Family gatherings, grilling out with friends (and of course fireworks). As I get older the fourth has become day rich in Nostalgia, a collection of memories and experiences, experiences that have taken place in 7 states across the continental US. When I look back and think about past Fourth of July's, I realize that more than the love of country, the ice pops, or the fireworks, it's been a day that has shown me the identity of the place I was living in. As I set out to photograph what the Fourth of July looked like in Williamson County, I couldn't help but wonder what I would find.
It's no secret that Williamson County is changing. People are moving from around the country into this area by the boatloads. Towns that were once farming communities have become suburbs sprawling with subdivisions and strip malls and new developments. This change in landscape and population inevitably brings with it a new face, and a new way of life for its residents, I wanted to see what this new face was.
I began my photographic coverage a few days before the fourth at Nolensville's Star Spangled Celebration. It seemed to me that the whole town had come out to join in on the festivities, and there was a certain charm about the event unique to Nolensville. The interactions between the people there were more than strangers simply making small talk, it seemed to me that everyone in the town knew most everyone else. Even as the town experiences rapid growth, to date I believe Nolensville has kept its Small-Town Charm.
On the day of the fourth I decided I would start my day at one of the oldest places in Williamson County: Gentry's Farm. In 1848 Samuel Fielding Glass Jr. began purchasing the land that is now Gentry's farm, and it's 400 acres are operated by Glass's Great-Great Grandson Allen Gentry and his son Jase. Every year on the fourth of July, the Gentry's put a World War 2 Era Jeep out in the front field of the farm, as you drive down 96 towards Natchez Trace bridge you can see it on the crest of a small hill, an American flag mounted on the back, along with the dozens of other flags that hang on the front fence.
My next stop was to Leiper's Fork. An unincorporated area of Williamson County that was settled in the 1700's by Veterans of the American Revolution from North Carolina and Virginia who had received land grants as payment for their service to the new nation. There I saw people leisurely walking down the row of buildings, most of which were closed, or eating at Puckett's. Nearly every building was decorated with old glory in some way or another.
Having caught a small glimpse of the old Will Co. I headed to Downtown Franklin, where people gathered to listen to live music, get their faces painted or go shopping at the stores downtown before thunderstorms rolled through. Once the rain stopped the Franklin Children's Parade began. Kids decked out in red white and blue costumes riding star spangled bikes, scooters, big wheels, and one electric mini-Jeep made their way down Fourth Street, around the monument in the center of the traffic circle downtown to the tune of "When the Saints Go Marching In" as their parents cheered, and took pictures and video with their phones of their children smiling from ear to ear as they went.
Finally, I headed over to Crockett Park for Brentwood's "Red White and Boom Celebration". There I saw what had to have been thousands of people, Natives of the area and recent transplants, young and old and somewhere in between there to celebrate our day of independence. Some gathered around the front of the stage and danced to the music played by The Kadillacs, while others preferred to sit on the hill surrounding and simply relax. The night ended with a pretty spectacular fire work show, and a slight breeze blew away most of the lingering gunpowder smoke just in time for the grand finale.
Throughout my coverage I continued to think about what Williamson County's new identity was becoming, what it's values are, and if the county could keep its connection to the history that took place here. What I found was an area that's first priority is its youth, it's a place to raise a family, a place to grow old in, and most definitely a place that loves America.
Troy Stolt is a student at UT Chattanooga studying journalism and photography. If you are interested in hiring him for portraits or any type of photography please visit his website troystolt.com