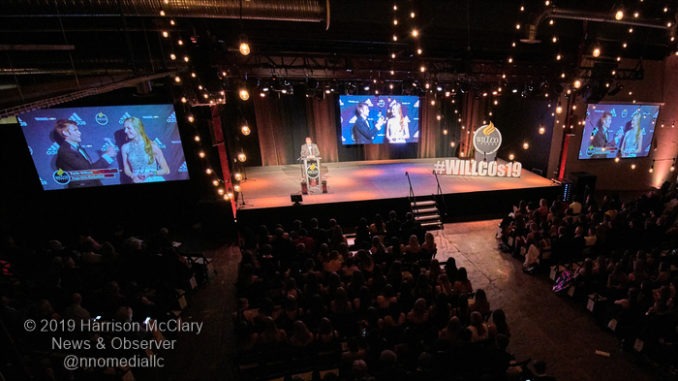 Williamson County Schools/Williamson County Sports Conference hosted their annual Wilco's Thursday, May 30 at the Factory in Franklin.  The event, which is a local version of the Espy's, is hosted each year to honor the best and brightest athletes in Williamson County.
The event was hosted in Liberty Hall in the Factory and the venue was full. Student athletes began arriving at 5:30 to walk the red carpet and be interviewed on the way into the venue.
The winners, by Category were:
Football: Defense Bryan Rice, Ravenwood; Offense: Brian Garcia Ravenwood; Player of the Year: TJ Sheffield, Independence.
Boys Golf: Jack Morris, Franklin
Girls Golf: Shelly Jang, Ravenwood
Boys Cross Country: Davis Bove, Centennial
Girls Cross Country: Sadie Cook, Independence
Girls Soccer: Anna Augustini, Ravenwood
Volleyball: Tori Carpenter, Brentwood
Girls Basketball: Faith Wilken, Page
Boys Basketball: Reese Glover, Franklin
Boys Wrestling: Skylar Coffey, Brentwood
Girls Wrestling: Skylar Bixby, Independence
Boys Bowling: Drake Austin, Brentwood
Girls Bowling: Emily Jackson, Centennial
Girls Tennis: Georgia Fischer, Brentwood
Boys Tennis: Jack Pianta, Independence
Girls Track: Avery McMullen, Centennial
Boys Track: Jeff Kinder, Brentwood
Softball: Kaitlyn Woodside, Summit
Baseball: Robert Hassell, Independence
Boys Soccer: Sam Khomtchenko, Brentwood
Cheerleader: Megan Zaves, Ravenwood
Dance: Molly Robinson, Brentwood
Female Athlete of the Year: Faith Wilken, Page
Male Athlete of the Year: Skylar Coffey
Male Team of the Year: Franklin Basketball
Female Team of the Year: Brentwood Volleyball
Female Coach of the Year: Barbara Campbell, Brentwood Volleyball
Male Coach of the Year: Darrin Jones, Franklin Basketball
Media Student of the Year: Zach Gaspie, Page
Courage Award: Drew Estes, Nolensville Baseball
Maher Award: Madison Cunningham, Brentwood Cheer
Sponsor of the Year: Matt Harris, Berry Farms Chiropractic
Academic: Sara Sanders, Page
Trainer of the Year: Brandi Mangrum, Independence