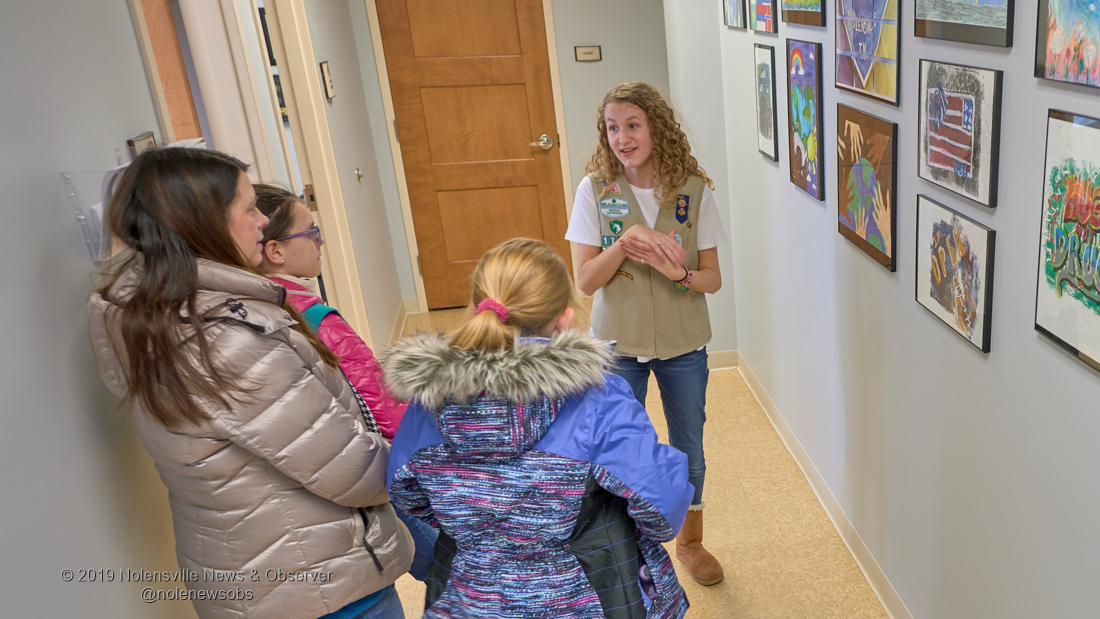 Nolensville Girl Scout Troop 1785 remodeled the Nolensville Police department for their Silver Award Project. Jennifer Bounds, troop leader, said she approached Nolensville Chief of Police Roddy Parker to see if there was anything they needed. Bounds, whose parents are retired police officers from Knoxville, said she wanted to do something to help the local police department. Projects for the Girl Scouts Silver Award have to be something that has never been done before, and helping the police fit that requirement.
Parker suggested the troop could paint a few of the rooms in the department. So the girls pitched in, found donations for the paint and supplies and started painting. After they had painted three rooms they decided the rest of the department needed painting. This was the beginning of a project that took them over a year to complete.
Once they had finished painting the department, they felt the new paint really made the old tattered furniture stand out. The furniture was left over from when the department had been housed in the old Nolensville School. It was furniture the School had left behind as not being worthy to move to the new school. Bounds and Troop 1785 set out on a mission to find sponsors to donate new furniture, flooring, kitchen furnishings and a TV for the break room.
They were wildly successful, obtaining new furniture for the offices. A stainless-steel refrigerator, 55 inch TV, a table, chairs, a new counter top and wall decorations for the break room and offices. They also obtained new flooring and carpet for the office as well as someone to install it all.
A further requirement of the Silver Award is that the project must be self-sustaining. To achieve this the Troop created an "Art Wall" along the hallway in the office. The wall is filled with art from area middle schools. The schools host an annual contest with the winners works hanging on the wall for a year.
Bounds said the entire project took about 13 months to complete.
by: Harrison McClary/ Nolensville's News & Observer