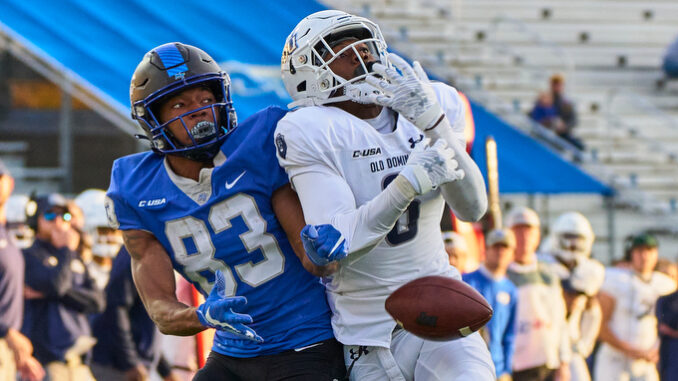 MT Athletics
Middle Tennessee made a late comeback attempt on Saturday evening at Floyd Stadium, but fell just short, losing 24-17 against Old Dominion.
 
Middle Tennessee (5-6, 3-4 C-USA) earned 25 first downs compared to ODU's 11 but averaged just 4.9 yards a play compared to 6.9 yards per play for the Monarchs. Nicholas Vattiato completed 31-of-45 passes for 281 yards, with Jaylin Lane as his top target, who caught 10 passes for 107 yards and a touchdown.
[Best_Wordpress_Gallery id="129″ gal_title="MTSU-ODU 2021″]
Photos: Harrison McClary/All Tenn Sports

After Old Dominion scored a touchdown on their opening drive, Middle Tennessee drove the ball 75 yards with 5:34 left in the first quarter, highlighted by a Jaylin Lane reception off the jet sweep as he cut back from the right sideline all the way to the left end zone pylon, stepping out just short after a 33-yard reception. Mike DiLiello took advantage, following in lead blocker Zaylin Wood in the new "Heavy D" package, sprinting in untouched from two yards out to help tie the game, 7-7, at the end of the first quarter.
 
Old Dominion and Middle Tennessee traded field goals after a pair of punts, making the game all square at 10-10 heading into halftime.
 
The score would remain tied all the way through the third quarter, but two ODU touchdowns in the first six minutes of the fourth quarter put MT behind the eight-ball, down 24-10 with 9:59 left in the quarter.
 
Middle Tennessee would find some life late, as Vattiato found Jaylin Lane on a fourth down go route in the right corner of the end zone for a 26-yard touchdown pass that cut the Monarchs' lead to 24-17. But a late fumble on the offense's final drive would end the Blue Raiders threat.
 
Middle Tennessee will travel to Florida Atlantic next Saturday for a final chance at bowl eligibility this season. Kickoff is scheduled for 6 pm central.