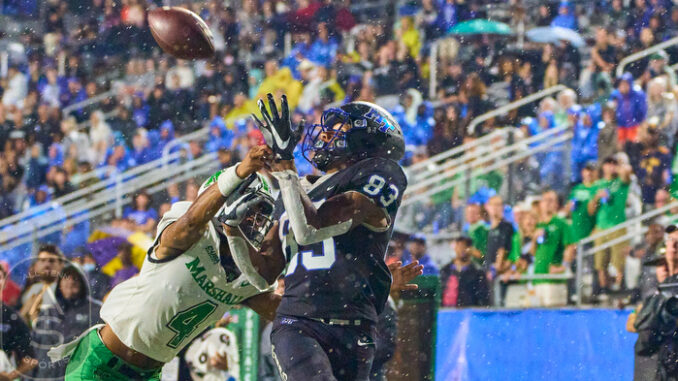 Harrison McClary/All Tenn Sports
Middle Tennessee tripped up the Thundering Herd 34-28 in Murfreesboro Saturday night in their "black out" game. The Blue Raiders jumped out to an early 7-0 lead in the first quarter as quarterback Mike Diliello ran in for the score.
[Best_Wordpress_Gallery id="110″ gal_title="MTSU-Marshall 2021″]
The Blue Raiders added 21 more points in the second quarter. Chase Cunningham connected with Jarrin Pierce deep in the corner of the endzone. The play was ruled incomplete, but on review was the call was changed to a touchdown. Middle added seven more when Chaton Mobley broke loose on 4th down 2 to go and charged 41 yards straight up the middle for another TD. Middle recovered a fumble to set up a Cunningham to Jaylin Lane 34 yard TD pass for the third score in the second quarter. Middle entered half time up 28-14.
The Blue Raider offense slowed in the second half, scoring only six points in the third quarter as Reed Blankenship recovered a fumble and streaked 91 yards for the TD, it was enough to hold on to the win.
Middle had 320 total yards in the win.  Chase Cunningham was 13 of 21 for 109 yards and two TDs.  Chaton Mobley rushed for 132 yards and one TD.  Marshall turned the ball over six times, four fumbles and two interceptions.
Middle next faces Liberty University in Lynchburg, Virginia on October 9, at 2:30pm.