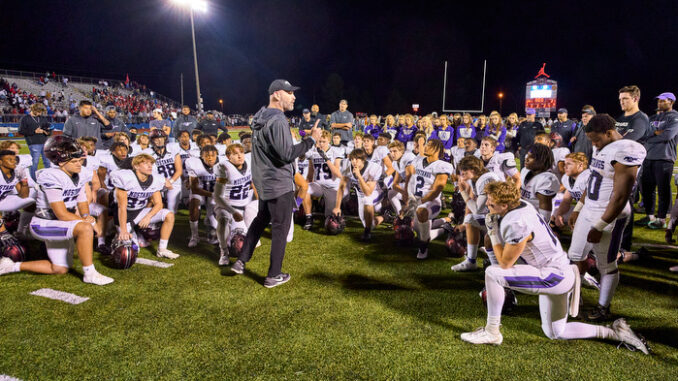 Harrison McClary/AllTenn Sports
Lipscomb Academy lost 21-29 in a hard-fought battle with the Oakland Patriots in a Thursday night match up in Murfreesboro, Tennessee. Lipscomb Academy scored first and led the game until 6:21 in the fourth quarter when Oakland drove for a touchdown and two-point conversion.
The Mustangs dominated in total yards offense with 371 yards to Oakland's 263 yards; time of possession 29:39 to 18:21 and in defensive sacks: one for a 16 yard Oakland loss. The Mustangs drove for 26 first downs while Oakland managed 14. Lipscomb Academy quarterback Luther Richeeson passed 27 of 32 for 186 yards and one touchdown and rushed for 46 yards. Alex Broome added 133 yards rushing and two touchdowns.
[Best_Wordpress_Gallery id="105″ gal_title="LA-Oakland 21″]
Oakland's offense was confined mostly to ground offense with Jordan James charging for 200 yards on 21 carries. Oakland quarterback Kade Hewitt threw 2 for 4 and 15 yards. He was sacked for one 16 yards loss.
Oakland fumbled the ball three times with two resulting in turnovers, and Lipscomb fumbled once for a turn over, which led to an Oakland touchdown.
"That's a very good football team we played for the full 48 minutes. It was a great environment to play in. After the game we talked about the fact that everything is still ahead of us in terms of region play and the playoffs. We'll learn from this experience, grow from it and get better as a tribe. Looking to go 1-0 next week." – Trent Dilfer, Lipscomb Academy head coach.
Lipscomb Academy travels to Davidson Academy for a regional match up next Friday, October 1 at 7:00pm.