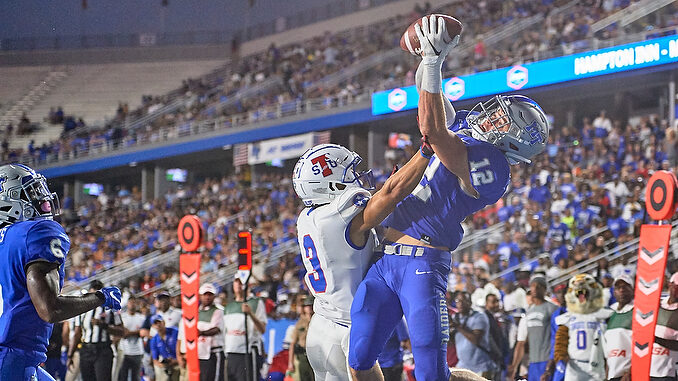 From Middle Tennessee Athletics
MURFREESBORO, Tenn. — As Middle Tennessee prepares to get back onto the gridiron after the long time off, head coach Rick Stockstill and his staff doesn't have to worry much about what they'll get from the special teams. Stockstill and special teams coordinator Mike Polly have plenty returning across the board, from kickers to long snappers to returners, and the leadership being shown is something to be excited about. 
"It's kind of similar to our group we had a few years ago who did really good things for us and had a lot of leadership," Polly, who's in his seventh year as special teams coordinator and eighth year overall at MT, said. "The biggest thing for us is we have a lot of competition. We have a lot of older guys who are providing leadership, but we also have a lot of younger guys who are competing behind them for spots. That only makes us better."
Juniors and seniors litter the special teams positions, including redshirt senior kicker Crews Holt, redshirt senior long snapper Russ Hiett, redshirt junior punter Kyle Ulbrich and a handful of senior punt and kick returners. The only position the Blue Raiders have to find a replacement for is at holder, where redshirt junior quarterback Chase Cunningham could slot in.
Seeing the leadership from the group, mainly from Holt, has been exciting for Polly. The former Tennessee Mr. Football Kicker of the Year from Ravenwood High School in Brentwood, Tennessee is inching up MT's career record books. Holt has made 30 career field goals, tied for eighth all-time with his predecessor, Canon Rooker, and Colby Smith, and his career 76.9% field goal percentage is third.
"It's obviously a weird year because we missed all of the spring, but I was really impressed with Crews and the way he was working in matt drills," Polly said. "As far as specialists go, I felt like he was working as hard if not harder than any of the specialists we've had. "I look for him to have a big year not just on the field, but also leading that group."
At punter, Ulbrich stepped into the spotlight and performed admirably for the Blue Raiders last season, his first year in Murfreesboro after transferring from Valparaiso University (IN). He averaged 41.4 yards and downed nine punts inside the 20-yard line.
Ulbrich is being pushed this offseason by redshirt freshman Matthew Rigney, who was born in Australia but played prep football at Independence High School just down Interstate 840 in Thompson's Station, Tennessee. He joined the team in 2019 as a preferred walk-on. "Kyle just works hard," Polly said. "I'm excited to see him take that next step. He did a nice job of stepping in and taking ahold of that starting spot last year, and I think he can be really good.
"We're really excited about Rigney, too. He showed some flashes last year as a true freshman and he has a big leg. I think him and Kyle will have a great competition this summer."
Middle Tennessee has a host of returners it can utilize this season. Reed Blankenship has returned punts the last two years, when healthy, and is a steady force who's also shown great return ability (see his 100-yard interception return for a touchdown in 2018 against Old Dominion). Polly is excited for some other speedsters, too.
"You can always count on Reed, but we have some guys who have a lot of speed, too," Polly said. "We have some guys who are legit fast who can step back there and turn a return into a big play for our team."
Here are the special teamers on the roster:
Placekicker
Crews Holt, R-Sr.
Ht./Wt.: 5-11/184
Hometown: Brentwood, Tennessee (Ravenwood High School) • 30 career field goals rank 8th all-time at MT
• 76.9% field goal percentage ranks 3rd all-time at MT
• Connected on 11-of-14 field goals, 35-of-37 PATs in 2019
• Nailed career-long 46-yard field goal against ODU in 2019
Colin Figenscher, R-So.
Ht./Wt.: 5-10/171
Hometown: Deland, Florida
• Did not play in any games in 2019
• Played soccer at Daytona State in 2018 before transferring to MT
• Ranked 11th nationally by Kohl's kicking as a senior at Father Lopez Catholic High School (FL)
Scott Payne, R-Fr.
Ht./Wt.: 5-11/196
Hometown: Signal Mountain, Tennessee (Signal Mountain High School)
• Did not participate in any games in 2019 and took a redshirt
• All-region recipient in football and all-district recipient in baseball in high school
Punter
Kyle Ulbrich, R-Jr.
Ht./Wt.: 6-0/185
Hometown: Mentor, Ohio
• Punted 46 in 2019 with a 41.4-yard average
• 7 punts went 50 or more yards in 2019; 9 downed inside the 20-yard line • Transferred to MT from Valparaiso University (IN) in 2019
Matthew Rigney, R-Fr.
Ht./Wt.: 6-4/196
Hometown: Newcastle, Australia (Independence High School, Thompson's Station, TN) • Joined MT as a preferred walk-on in 2019
• Did not participate in any games in 2019 and took a redshirt
Long snapper
Russ Hiett, R-Sr.
Ht./Wt.: 6-0/221
Hometown: Kennesaw, Georgia
• Played in 8 games in 2019; missed 4 games due to injury • Served as long snapper on field goals and PATs in 2018
Chase Cunningham, R-Jr.
Ht./Wt.: 5-11/190
Hometown: Knoxville, Tennessee (Knox Catholic)
• Played in 5 games in 2019; 221 passing yards, 3 TDs (2 passing)
• Against North Texas, completed 9 of 16 passes, 119 passing yards, 2 TDs (one passing) • Earned the team's sophomore academic award in 2019
Kyle Ulbrich, R-Jr.
Possible returners
Reed Blankenship, Sr.
Ht./Wt.: 6-1/196
Hometown: Athens, Alabama
• Started 7 games in 2019; missed last 5 games due to injury
• Second Team All-C-USA in 2019; First Team in 2018; All-Freshman Team in 2017 • 58 tackles (fourth on team), 2 INTs, 3 pass breakups in 2019
• Enters 2020 with 233 career tackles, 8 INTs
Jayy McDonald, Sr.
Ht./Wt.: 5-9/196
Hometown: Oakland, California
• Played in all 12 games in 2019
• Had 204 rushing yards on 40 carries in 2019
• 92-yard scoring run against FIU equaled the second longest in school history
Jarrin Pierce, R-Sr.
Ht./Wt.: 5-11/194
Hometown: Los Angeles
• Played in all 12 games in 2019 with 10 starts
• 42 receptions (second on team), team-high 562 yards, 4 TDs in 2019 • Transferred in 2019 from College of the Canyons (CA)
DJ England-Chisolm, So.
Ht./Wt.: 5-7/150
Hometown: Moncks Corner, South Carolina
• Played in 9 games in 2019
• 6 receptions, 162 yards, TD in 2019
• 80-yard TD against TSU is longest catch by a true freshman in MT history
Copyright ©2020 Middle Tennessee State University Athletics