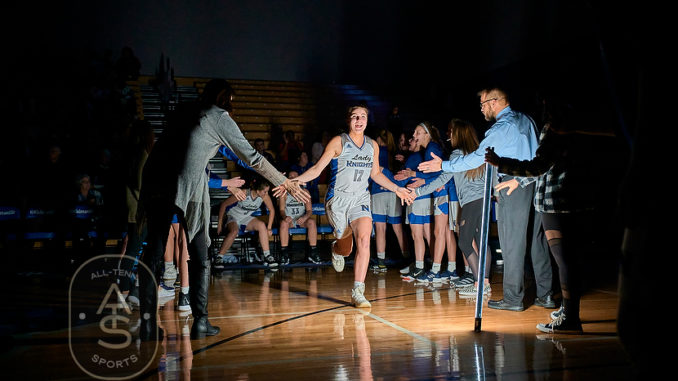 Harrison McClary/All-Tenn Sports
The TSSAA has indefinitely suspended the girls state tournament.  This is sad news for all of the young ladies on the teams that made the final four.  One local team, the Nolensville Knights basketball team, has worked hard to build a team that can compete at the highest levels of the state.  
Nolensville High School opened in 2016 with grades 9-10. Last year the volleyball team won the first state title for the school. The Lady Knights basketball team was hoping to add to the trophy case with a trophy of their own this season.
Sadly, the quest ended suddenly, not from a loss, but because of a virus, the SARS-CoV2 commonly called the Coronavirus or Covid-19. The tournament, which was in process, was suddenly suspended indefinitely due to an increasing rise in cases throughout the United States, and the world.
In the sports world all events came to a grinding stop. All basketball conference championships were canceled, March Madness games were canceled as were all NCAA winter and spring sport championships. The NBA stopped play, as did the NHL, MLB was postponed, Tennessee even canceled the Orange and White football game in April.
All of this does nothing to mitigate the frustration these young athletes must be feeling, to work so hard for a goal then be denied the chance to reach it.
Let us all hope that the concerns and fears from this disease end up being far less than anticipated. That loved ones do not get sick and die. Perhaps this will pass quickly, and the sports can return and life resume along its usual path.