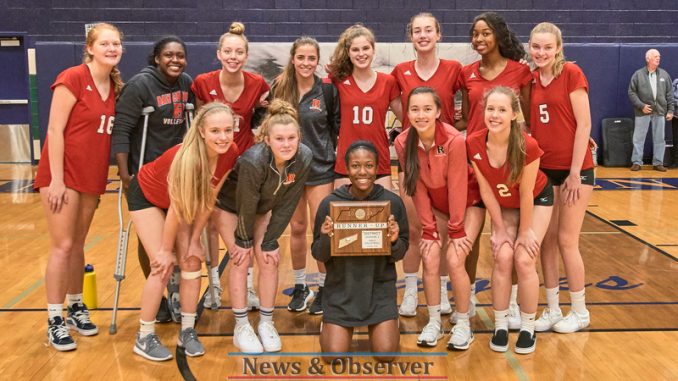 The Ravenwood Raptor's volleyball team clinched 12AAA District Runner-Up Wednesday evening at Independence High School in Franklin.
They started the night off facing Page, a team they had recently lost to 3-2.  The Raptors came out hot, winning the first two sets 25-14 and 25-19.  In the third they started slow and were not able to recover with Page taking it 25-22.  The Raptors recovered quickly and downed page in quick fashion, 25-10.
Game action from the Page-Ravenwood game. Photos can be purchased from here.
They immediately moved on to face cross town rival Brentwood in the finals.
Ravenwood quickly won the first set 25-19, but Brentwood was far from down.  In the second set the teams exchanged points, swapping leads several times and scoring one after the other.  Brentwood persevered to win 27-25, after Ravenwood had come from behind to tie the score at 24 then pull ahead 25-24. 
Game action from the Brentwood-Ravenwood match. Photos can be purchased from here.
Brentwood took the final two sets 25-20 and 25-15 to claim the District title, 3 sets to 1.