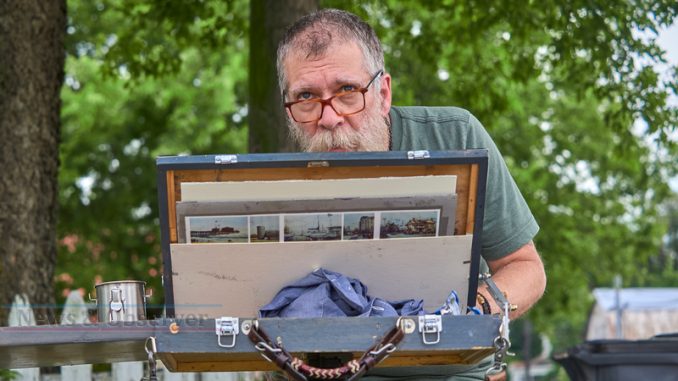 Shelly Gail Morris/N&O
You're driving on a clear, crisp afternoon and you spot an artist in the distance, focused on a Maple tree in bloom, crouched over a palate of paints, the terracotta sun illuminating his stance. You might think you're in Paris, France beside the Seine river. But nope, you're in Nolensville, that's Mill Creek and it is probably local artist, sculptor and musician Todd Saal. Though a New York native, Todd has been a resident of Nolensville for four years. After living in New York all his life, he's still adjusting to the friendliness of the people in the area and so far, it's truly inspiring!
Photos can be purchased from here.
Todd grew up in Queens with his mother and brother. From an early age, he was a tinkerer. He received formal training in sculpture, pastels, and oil painting, and played the guitar in several different bands, recorded and mixed music. He also attended an aviation high school in Long Island City. He and his wife Jodi were married in 1991. He dabbled in office work, restaurant cooking, and appliance repair. He taught himself how to program computers and launched a software company working with many diverse industries. No matter what he did, he had a desire to master it.
His unique software was a financial success and the technology field consumed him for twenty-six years. In the beginning he was captivated by it, but after seven or eight years, boredom set in. He was unhappy, and he longed to pursue his true passion, art. Jodi's job brought them to Tennessee periodically and the couple fell in love with the area—the weather, the cordiality and the lower taxes. They bought a home here and commuted back and forth to New York for two years. But little by little, Nolensville started to feel like home and in 2015, the couple moved here permanently. Todd needed to de-stress. He left his consulting business and set his sights on creating full time.
Todd attended a watercolor workshop in Memphis taught by Dan Marshall. Watercolors are loose and hard to control, but Todd found himself infatuated by the challenge. For two years he studied every detail of the art. Dan also suggested Plein Air painting/outdoor painting. Todd found he loved being outside in the elements, experiencing the moment, no matter what the weather. It was an interesting undertaking, all around, it brought him joy and a real feeling of accomplishment. He states, "I love observing places and people and capturing the intensity of these moments." It takes him about two hours to complete a work. He has painted cityscapes, lakes, mountains, people, trains, trees, sunrises, sunsets–anything that speaks to his soul— all over the country and abroad. He has spectacular watercolors of Nolensville—the Amish market, Mill Creek, and several other scenic places. In downtown Nashville, he has captured the skyline, several train yards, Germantown, the Gulch and Music Row. These watercolors are all available at his web site, www.ToddSaal.com. His work is also displayed at The Breadth Within, in New York.
Summing up his work Todd states, "I like to think of watercolor as my partner, each of us having our own voice in every painting. It does its own thing and continues to work long after the guidance of my initial brush strokes. I seek to capture the spirit and character of the people and places I portray in my work. Each one has its own story to tell."
In the past few years Todd has won Artist On Location – Plein Air Event 2018 – Best Urban Painting, 2019 – Best Urban Painting and Artist Choice Award, Tennessee Watercolor Society – 2018 Biennial Exhibition – merchandise award, Wonder Of Watermedia – Best In Show
Southern Watercolor Society 2019 –
Annual Exhibition.
And of course, Nashville has inspired the musical side of Todd. He has been playing his guitar more and writing music. He is also working in film making and scoring for animated short films. He considers himself a multi-disciplinary artist. There's a lot to take in in Nolensville. So, watch for Todd, and if you see him stop and say, "Hello." He loves meeting
people in the community and getting immediate feedback on his work. Share a story, marvel a bit. The harmony of Tennessee has worked it's magic and touched his soul, and his unique creations will touch yours as well. ToddSaal@Instagram.
By. Shelly Gail Morris– wife, mom, grand mom, journalist, novelist, cat rescuer!