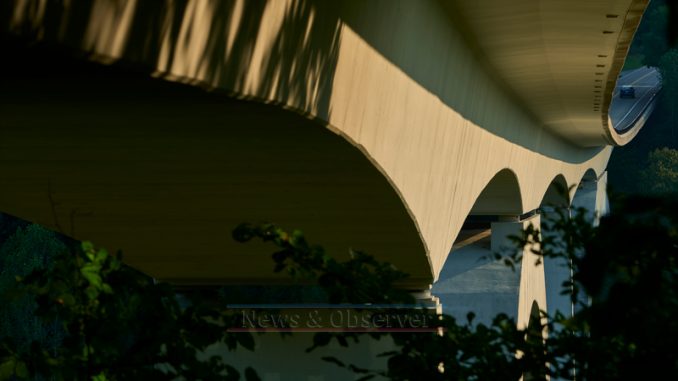 Harrison McClary/N&O
Towering over Highway 96 near Franklin, Tennessee is a stunning double arch bridge.  The bridge carries the Natchez Trace over Birdsong Hollow, arching 155 feet above the valley floor.
There is a parking area just north of the bridge where you can walk along a sidewalk and view it from an over look. You can also walk along the side of the road and across the bridge to see sweeping views of Birdsong Hollow below. There is also a parking area below the bridge where you can look up on the entire length of the bridge
The Bridge opened on March 22, 1994. It was the first segmentally constructed concrete arch bridge in America. It is composed of 122 segments that were cast in Franklin then moved to the site and raised into place.
It received the Presidential Award for Design Excellence in 1995, an Award of Merit from the Federal Highway Administration in 1996, and was named the "single most outstanding achievement in the bridge industry for 1994" by the Eleventh International Bridge Conference.
The bridge has garnered the local name "Suicide Bridge" as at least 32 people have jumped to their deaths from its heights.  The low, 32 inch, railing  does little to deter people from attempting suicide from the famous landmark.  Currently the National Park Service has confirmed 1.2 million has been allocated to explore adding a pedestrian barrier to the bridge.  They must determine how to install such a barrier without overloading the structure, which is near capacity.