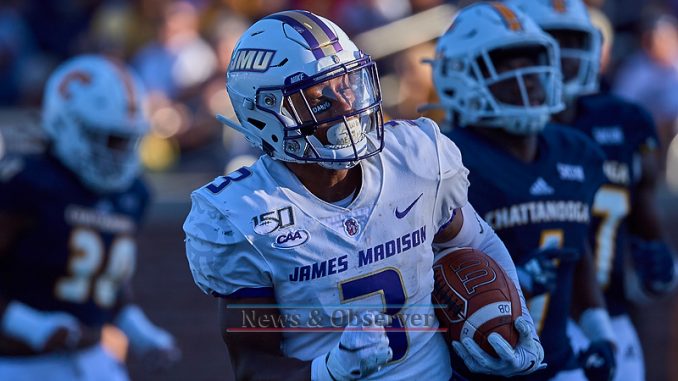 Harrison McClary/N&O
UT Chattanooga Mocs had a tough afternoon Saturday as they faced #2 James Madison at home on Davenport field.
The first quarter ended with excitement as the Mocs scored a pair of touchdowns back to back to tie the game at 14. From that point on it was a James Madison show. The Dukes scored 23 unanswered points to end the day 37-14 over UTC.
Head coach Rusty Wright said on JMU pulling away in the second half: ""That's what good football teams do. They figure out ways to win. We have to quit shooting ourselves in the foot early. When you play guys like this and Jacksonville State, everything is magnified. Everything. You can't make mistakes because that's what good football teams do, they take the second-half kickoff and drive down and get points. Just get points, that's what they had to do. Defensively, they find a way to stop you. They make a play when they have to make a play. We're not good enough to turn the ball over and have false starts, jump offsides, we can't do that. That falls directly on me. That's a really good football team and one of the best teams we'll play all year."
UTC gave up a season high 268 yards on 49 carries. The Dukes ended the game with a total of 532 yards, this is the most UTC has allowed an FCS opponent since 2015 when Jacksonville State had 640.
"You hate 1-3, obviously, with how much we have put into it. This isn't the result we wanted, but it was four really tough games. We showed a lot of good things and fought really hard. All our goals are still in front of us, we can still go win the conference and do all the things we want to do. We just have to use this as fuel, get better and learn from our mistakes.  This team, we have a lot of fight in us. We have a lot of physicality, a lot of toughness, to fight battle back in these games. We've shown flashes of doing great things. It's just getting over that hurdle, and doing it every play for four quarters, and learning how to get a win in a tough game against a good team." Nick Tiano, Mocs Quarterback.
Looking forward Wright acknowledges it will not be an easy road "If we'll go fight like they did and play hard, we'll give ourselves some opportunities. It won't be easy. It's a lot like trying to win the first one again. We've played some good football teams, and I'm not taking anything away from anybody, we have some self-induced stuff that's for sure. We have to do a better job as coaches on some of that stuff in some regards, but we've played some good football teams."
UTC hosts Western Carolina next weekend, September 28, for homecoming.