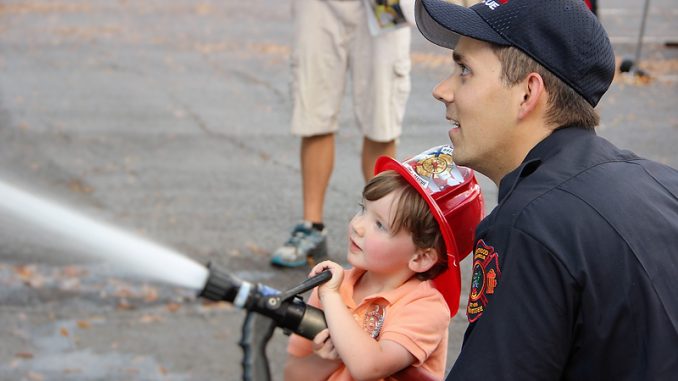 Deanna Lambert/Community Relations Director | City of Brentwood
Free Family Friendly Event About Fire Safety
Brentwood, Tenn. –   The Brentwood Fire and Rescue Department will hold its 9th Annual Public Safety Day Festival from 9am-1pm, Saturday, September 28, 2019, in the Stein Mart parking lot located at 330 Franklin Road.  The festival will include children's activities, fire displays, police, and emergency medical vehicles. There will also be a residential fire sprinkler exhibition, a vehicle extradition demonstration to show how firefighters remove a person who is trapped in their car when involved in a vehicle accident, and new this year, an extrication with the assistance of the department's new drone.  If you need a car seat check, licensed professionals will be available to help.
There were 1,400 in attendance last year. Brentwood Fire Chief Brian Goss says "This event is an excellent way for children and parents to learn about fire safety in a controlled environment. Children will be able to operate a real fire hose and see firsthand how fast a small room can go up in flames. This day helps educate our community's youngest and oldest residents about the responsibility of public safety and what to do if ever they encounter an emergency."
Event Coordinator Engineer Adam Wyngaard says, "Bring your entire family out. There will be a jump castle, a hazmat trailer, a water spray station, K-9 units, DARE officers, free car seat checks, K-9 units, and DARE officers and CPR demonstrations." The most visual event, which is the side-by-side house burn demonstration will be the final event of the day in the 12-noon hour. The significance of the side by side burn is to show the public how important it is to have a working smoke alarms and the value of having your residence and/or workplace equipped with fire sprinklers. "It really shows residents and the public how a sprinkler system works and clears up any myths that television and Hollywood incorrectly have incorrectly depicted," Wyngaard said.
In addition to the Public Safety Day Festival, all four Brentwood Fire Stations will be open and offering tours on Saturday between 9am-1pm. Firefighters will be able to discuss station life, explain their duties, and talk about fire safety. Brentwood's four stations are located at:
· 5211 Maryland Way
· 1301 Wilson Pike
· 1750 General George Patton Drive
·         1300 Sunset Road