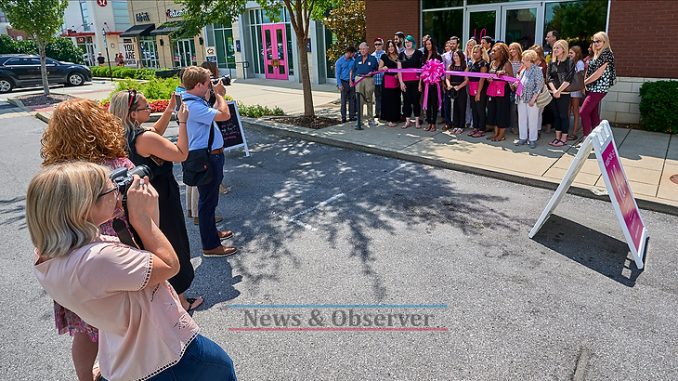 Blo Blow Dry Bar Makes Its Debut in Tennessee
Nashville, Tenn. — Blo Blow Dry Bar, North America's original blow dry bar and the world's largest blow dry bar franchise, opened its first Tennessee location Friday, August 2, with a ribbon cutting ceremony at 11:30 a.m.
Photos can be purchased from here.
The new bar is locally owned by former Certified Public Accountant-turned-entrepreneur, Katelyn Eulau, and is located at 1556 W. McEwen Drive in Franklin. Neighbors in the shopping center there include Whole Foods, Lululemon, The Bottle Shop, Mountain High Outfitters, Pure Barre and Pure Sweat and Float Studio to name a few.
"Whether you're the stay at home mom balancing a hectic schedule and taking 45 minutes for yourself, the girl boss stopping in at 7 a.m. before a big meeting, or the socialite preparing for a big event, Blo offers something for everyone," said Eulau. "I first visited a Blo Blow Dry Bar when I was traveling for work. In 45 minutes, my hair was shampooed, beautifully styled and left me feeling gorgeous and confident. After several visits, I fell in love with the model and knew I wanted to open the area's first Blo location."
Recognized as America's original blow dry bar, Blo Blow Dry Bar believes in creating an inclusive space where people of all ages, ethnicities and orientations can feel welcomed, represented and gorgeous. Combining a chic and modern design with a fun and lively environment, Blo creates a seamless and enjoyable experience for guests from start to finish. Expertly trained bloers are available for consultation seven days a week to meet the needs of all customers. Blo's hair menu includes seven signature styles to choose from, ranging from a sleek ponytail to flirty and bouncy curls.
Blo Cool Springs will be open from 7 a.m. to 7 p.m. Monday through Friday, 8 a.m. to 7 p.m. on Saturdays, and 11 a.m. to 5 p.m. on Sundays. Appointments are available at Blo's website and walk-ins are welcome during regular hours depending upon availability. Appointments can also be made by calling (615) 905-9957.
To stay up to date on the latest news and promotions, follow Blo Cool Springs on Facebook and Instagram. For more information on the Blo Blow Dry Bar, visit www.blomedry.com.