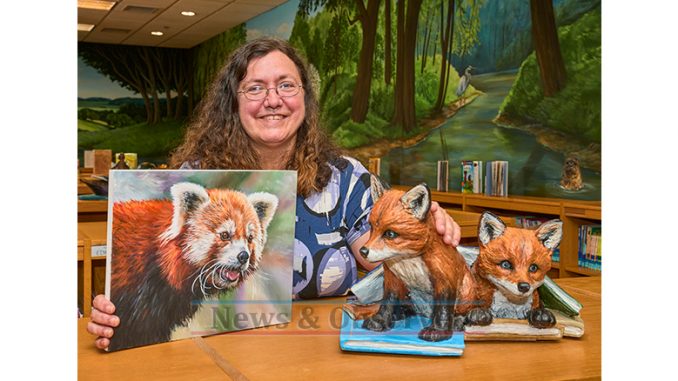 Ashley Bright
News & Observer
Cindy Billingsley started drawing when she was 12 years old. By the time she was 16, she was creating pastel portraits and selling her artwork. Those were the first steps in an artist's journey that would produce public art pieces across the nation, from New York to the John P. Holt Brentwood Library.
A native of Franklin, Tenn., Cindy attended a local four-year art school called Harris School of Art. She studied fine art and illustration, gaining a traditional art education of perspective and anatomy. Cindy is a highly accomplished painter, sculptor, and sought-after public artist. Her sculpture work is primarily self-taught.
Wildlife, sculptures and Alzheimer's

For many years after art school, she created portraits of people and pets. She also produced residential murals for children's rooms
and nurseries.
As she kept busy painting, she experimented with all types of mediums, becoming proficient in everything she could get her hands into.
When she was 27, a friend took her to the Rodin and Camille Claudel Sculpture exhibit at Cheekwood Botanical Gardens. It was during that visit to the gardens when Cindy decided she no longer wanted to merely paint. She envisioned herself as a sculptor.
Cindy set out to pursue sculpting. She took a portrait sculpting class at Watkins College of Art and began working as bronze sculptor for eight years, employing and mastering the lost-wax casting process. As producing bronze is expensive, Cindy began learning to
work with clay.
Wildlife and nature have always drawn Cindy's attention, and as she began to work in clay, her wildlife artwork emerged. She spent 10 years learning about clay, gathering skills, and making ceramic sculptures. Her first sculpture series depicted sea-life, and she went on to create a vast catalog of wildlife sculptures.
While she took a 13-year hiatus from painting, Cindy participated in art fairs selling her sculpture work in the Southeast. Her mother was diagnosed with Alzheimer's in 2005, and Cindy was diagnosed with ovarian cancer in 2006. Fortunately, she overcame the cancer, but her work was left changed.
"I wasn't as interested in just making objects to sell anymore," said Cindy. "I wanted to do art that spoke, brought awareness, informed, and said something important. Art should communicate."
Always close friends with her mother, Cindy began to tell her mother's Alzeimer's story through her work.
"The Alzheimer's exhibit was a way for me to thank Mom for her unwavering support of my art and to give her the voice she no longer had," said Cindy. "It also gives others information on how to understand the disease and care for loved ones."
Each piece of Alzheimer's art depicts an aspect of the disease, like isolation, silence, sense of self, the many, and a sense of endless wandering. This work brought Cindy back to her first medium—paint.
John P. Holt Brentwood Library

While creating the insightful Alzheimer's exhibit, Cindy also produced public art for Warner Park and was commissioned for the Brentwood Library murals when the library opened its current location in 1998. ESa (Earl Swensson Associates) was the architect on the project—both in 1998 and 2009—and the firm choose Cindy's artistry for each rendition.
For the first project, Cindy painted the backdrop landscapes for the city-themed children's section, plus the 15-foot circular cloud ceiling, and a large mural behind the librarian's desk.
When the library expanded in the mid-2000s, ESa asked Cindy to design the walls. She brought the animals off the walls and into the room with sculptures. All of the animal groups incorporate books and Tennessee wildlife, providing learning opportunities for children visiting the library. In the landscape of one of the walls, Cindy has hidden 23 animals.
Cindy lived in the library at night two and a half months to complete the murals, and the 20 sculptures took about a year to complete.
While painting the murals one night, Cindy recalls the building's alarms were tripped. The Brentwood Police responded to alarms, only to find an artist inside painting. Cindy called the children's section library director to vouch for her legitimacy, and continued on in peace.
"The Brentwood Library is my favorite project I have ever done. It is like a second home to me, after spending that much time there," said Cindy. "And it is the one place where you can see a lot of my art in one spot."
On art and mediums
Many artists specialize in one medium. Cindy is both a painter and sculptor, who cannot choose a favorite medium among clay sculpting, acrylic, and oils.
"To me it is like speaking in two different languages—I can tell you one thing better in clay, and another thing better in paint," said Cindy. "Clay is great at absorbing one's emotions."
Tomorrow's project
This summer, Cindy will be painting a child's bedroom and bathroom with landscapes like the library for a client in Brentwood. And she continues adding to her endangered wildlife work.
Learn more about Cindy Billingsley and her work at
www.followthewhiterhino.com and
@artistpoet on Instagram.
Ashley Bright is a Nolensville resident and owner of fwd, a boutique communications firm focusing on reputation management and digital marketing built to increase online visibility and local search rankings. www.fwd.work and fwdreviews.com.