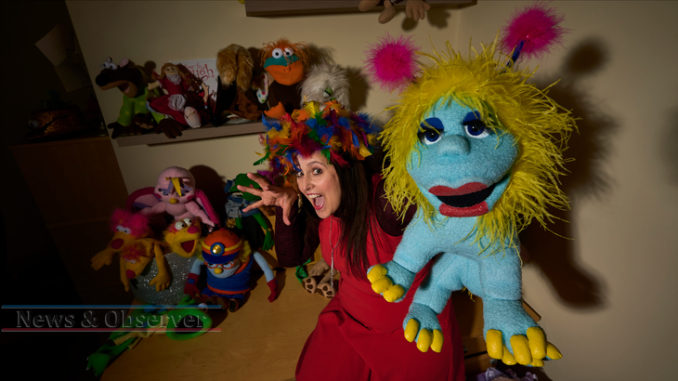 Shelly Gail Morris
News & Observer
They're tiny, they're restless, they're noisy—they are a tough crowd, but they are captivated by Jill Thatcher, Nolensville's premier ventriloquist and puppeteer. Jill is right at home entertaining toddlers at The Williamson County, Nolensville Branch library. Children and parents alike are laughing and singing as she leads the show with her puppets and toys. Jill cheerfully encourages participation. It's a fun, casual, interactive environment as everyone enjoys the show. Her voice and demeanor are lively, cheerful and easy for the children to relate to. Even I can see—everybody adores Jill.
Photos can be purchased from here.
Jill Thatcher was born in Tyler, Texas. She has two brothers. Her Grandmother was a floral designer and her Great Grandmother was a poet. She feels she got her creative energy from them. She attended Van High School where she was first introduced to ventriloquism by her drama teacher, Brenda Kellam. Brenda pointed out Jill's skill and encouraged her to really pursue puppetry and ventriloquism entertainment. She started booking Jill at local preschools and churches and she was a hit. Jill found that she enjoyed it immensely, and it was fun to rekindle a forgotten art.
After high school, she attended Tyler Junior College and immersed herself in drama and improv. She participated in plays and also used her ventriloquism skills. She won a gold medal for puppetry and informative speaking at a competition in Minnesota and realized that this was her calling. Teacher Jackie Shackleford was very supportive, insisting that she continue to use her gifts in writing scripts and teaching children through puppetry.
Jill attended West Virginia University studying puppetry, theater and creative drama. She also learned to make puppets—marionettes and string. This was an exciting time as she developed and perfected her artistry. In 1992 she moved to Nashville and began working and collaborating with the Nashville Children's Theater and Kids on the Block Puppetry Troupe. She was thrilled to learn bunraku, a Japanese form of puppetry. She began traveling to schools and using the puppets to address topics such as; Accepting People with Disabilities and Understanding Illnesses like cancer and epilepsy. She also wrote and performed many scripts on kindness, patience, empathy and good will. She found that through puppets she could convey so many helpful, enlightening topics. The need for business cards arose. She met Jay Thatcher, a graphic designer and musician. They fell in love and were married after a few short months. Today, they have been together for twenty-six years.
Jill toured with STARS, Students Taking A Right Stand against drugs, using her puppetry to warn against the dangers of drugs. She wrote scripts about these topics, and also about conflict and resolution. She traveled continuously and immersed herself in her work.
In 1998 she had her first child Jackson, and her second son Jordan followed closely behind. With her boys being sixteen months apart, this was a very busy time. Raising children is very gratifying to her. In 2007, Jill and Jay adopted two girls from Guatemala, Josie and Jacklyn. Her family took center stage, and she put her career on hold.
Her children each have different passions. Jackson is a guitar player, specializing in finger style and R & B. Jordan is a college student concentrating on his studies. Josie likes sewing and dancing. Jacklyn loves books and focusing on her school work. There is never a dull moment in the Thatcher household, and Jill is very proud of her children.
Now that her family is a bit older, Jill is making the time for her puppetry again. Nightly, she works on scripts, new characters and unique voices. She is at Williamson County Library, Nolensville location two days a week for story time. It is free and informal to all who want to attend. Wednesdays are for preschoolers ages four to five from ten-thirty a.m. to approximately eleven-thirty a.m. Toddler time is Thursdays from 10:30 a.m. to approximately 11:00 a.m. It's interactive for the kids with familiar songs like, The Itsy Bitsy Spider, Twinkle Twinkle Little Star and Zoom Zoom. She encourages taking turns, sharing and joining in. Dancing and jumping are encouraged. Brothers, sisters and grandparents are welcome. April's topics are Nursery Rhymes & Tales. Summer is all about reading. September starts Farm Fever. October fun is Life of a Pirate. November introduces Scarecrows & Turkeys. December meets Mimi the Elf. Although the stories are usually themed, she keeps the shows "off the cuff" and caters to the audiences likes and dislikes.
Samantha Caldwell has been coming to see Jill for years. Her children are seven, five and two. She stated, "We love Ms. Jill because she is relatable. She engages our babies. My daughter has to hug her every time we come. We attend twice a week. My kids like the puppets and the songs and the free time. It's informal for the moms and we always have fun. Jill is a
staple in Nolensville."
Jill feels she has found her niche' in life, delighting children. In addition to story times at The Nolensville Library, she will be performing at local daycares and libraries throughout Tennessee with her favorite puppets: Arlo, Denver, Zoee and Diddy. She also plans to start a You Tube channel in hopes of reaching a broader audience and making it easy for parents to let their toddlers tune in at home and on the go. Bringing laughter, and joy to children and their loved ones motivates Jill each and
every day!
www.JillThatcher.com
About Shelly Gail Morris: I have a busy husband, two grown boys, one lovely daughter-in-law, one perfect granddaughter, and three white cats. I've penned four humorous, fiction titles, available on Amazon in many formats, or in paperback at the one and only Shabby Lane Shop, downtown Nolensville! www.ShellyGailMorris.com