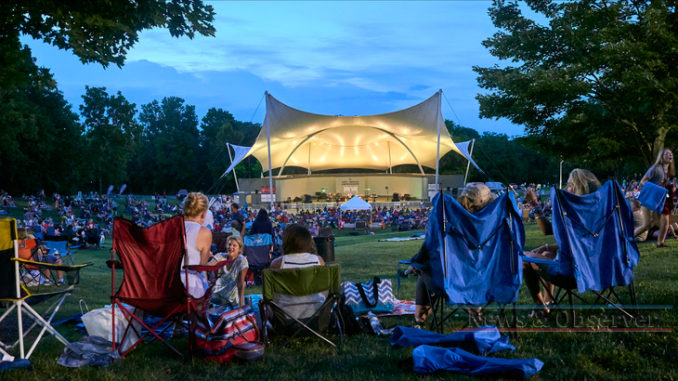 From the City of Brentwood:
July 4th Music and Fireworks in Crockett Park
Brentwood, Tenn. – The City of Brentwood invites you to attend the 32nd Annual Independence Day Celebration at the Eddy Arnold Amphitheater in Crockett Park from 5pm to 10 pm on Thursday July 4, 2019.
The celebration, "Red, White and Boom in Brentwood" will feature Paul Ross and the "The Kadillacs." They will begin playing Big Band, disco, and jazz music at 7pm. Admission is free thanks to our sponsors Brentwood Academy, First Farmers, Farmers Insurance, HG Hill, Wilson Bank and Trust and Mix 92.9. Nearly 10,000 people attend this event each year. Since parking is limited, residents are encouraged to park at the Brentwood Library or River Park and use the bike paths. Residents who live in nearby subdivisions are encouraged to walk or ride bikes to the park. Cars will not be allowed into Crockett Park after 8:30pm.
5 pm Food Trucks
7 pm The Kadillacs
9 pm Fireworks
9:15 pm The Kadillacs
Beginning at 8:30pm, the following streets will be open for one-way traffic only: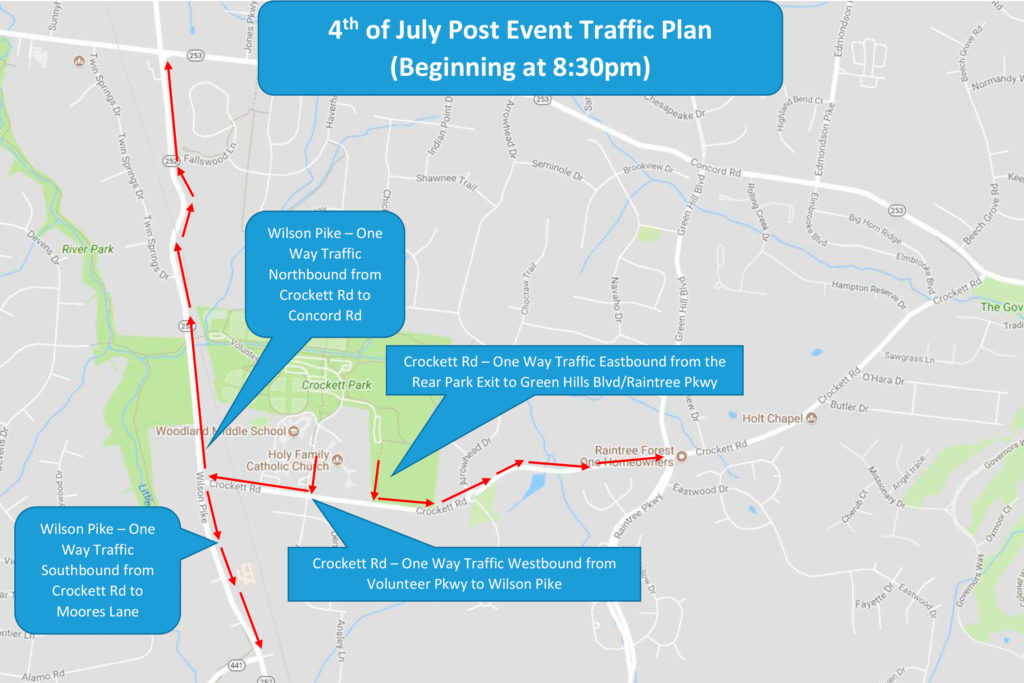 • Wilson Pike – northbound from Crockett Road to Concord Road
• Wilson Pike – southbound from Crockett Road to Moores Lane
• Crockett Road – eastbound from the rear park exit to Green Hills Blvd/Raintree Pkwy
• Crockett Road – westbound from Volunteer Pkwy to Wilson Pike
Several food trucks will be lined up around the park to serve food beginning at 5pm. Savory trucks include Banjos BBQ, Papa J's BBQ, Don Miguel's Rustic Juicery, I Love Roti, Two Thompson's Catering, Ugly Burgers, One Spudtacular Food Truck, The Love Bus, Roadhouse Grille, Soltani Kabob Bus, Califarmia, and It'Z a Philly Thing. Sweet truck options include Bradleys Creamery, Blue Monkey Shaved Ice, Itty Bitty Donuts, and Meadows Melt's Shaved Ice and Cottoncandy.
Fireworks will begin at 9pm. If there is lightning, strong wind or continuous rain between 7– 9pm, the fireworks will be canceled or postponed. Lightning is the only reason the concert would be cancelled.
After thirty-two years of July 4th performances, this will be the final show by the Kadillacs at Crockett Park. Band leader Paul Ross said that the band will retire as of July 4th.
"The band was created from a live music variety television show on News 2 WKRN back in 1984," explained Ross. "Once the show was cancelled, I was inundated with requests to hire the band from all over the country. Well, the rest is history," said Ross. The band estimates they have performed more than 1,000 shows throughout the U.S.
Ross was instrumental in 2000 with helping the City of Brentwood raise funds for the amphitheater roof at Crockett Park. The roof was a class project for the 2000 Williamson Inc. Leadership Brentwood group, in which Ross was a member. At the time, Commissioner Regina Smithson was mayor and said that "the cost was $600,000. The group approached country music star, Eddy Arnold, to see if he would help with the cost," Smithson recalls.
"We, as the city, decided if Arnold would pay for half of it, we would name it after him," Smithson said. Arnold agreed to donate $300,000 and the City handled construction and final funding. Commissioner Smithson thanks Ross for his leadership with the project. "Paul has improved the quality of life in Brentwood through not only with his musical talent, but also his public service in Brentwood for many years. We will miss him in 2020 at the July 4th celebration," Smithson said.
Ross thanks the City of Brentwood and residents for its continued loyalty through the years of July 4th shows. "It has truly been a pleasure and one of the most consistently enjoyable performances the band has had throughout its tenure," Ross said. Brentwood City Commissioner Anne Dunn said, "no one has played a bigger part in providing great music at the concerts than the Kadillacs and Paul Ross."
There will be a special performance of the National Anthem on July 4th this year by Lou Galterio. Lou is known for his 'golden voice' and his amazing rendition of the Star Spangled Banner. His powerful voice has led him to many opportunities to sing for the NFL, the NBA, the NHL and Major League Baseball. Galterio has also sung in front of the President of the United States, on Monday Night Football, and for our U.S. Military and Veterans.
Personal Fireworks Aren't Allowed in Neighborhoods
A reminder to residents that personal firework displays are illegal inside the City of Brentwood without a permit – something that has been part of the municipal code for many years. The City asks that all residents be respectful of their neighbors and allow the only fireworks set off to be those in permitted displays. Concerns about violations can be reported to the Brentwood Police at the non-emergency line only, at 615-371-0160.