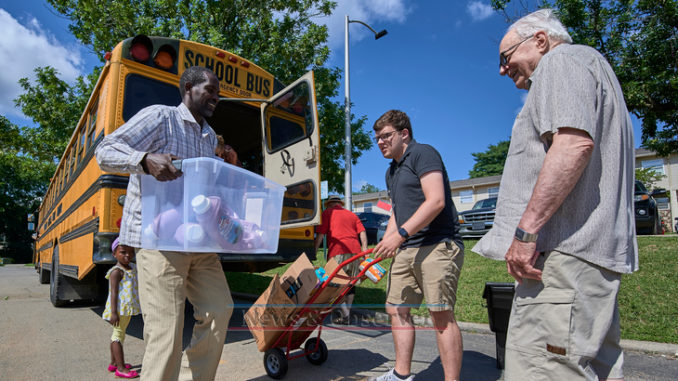 On the morning of June 13 a yellow school bus pulled into an apartment in south Nashville The bus was not there to pick children up for school, it was there to make a delivery of hygiene items for the Southeast Nashville Refugee Outreach program. This was the first delivery using the bus the Community Closet purchased earlier this year.
The bus delivered diapers, wipes, feminine hygiene products, laundry detergent, cleaning supplies, and toilet paper. At least 50 mothers came through the center to pick up supplies the bus delivered.
Nolensville Community Closet began in the garage of Staci Irwin, a local Nolensville resident, in November 2017. It was created in response to a Facebook post asking where one could donate clothing that could be used in the community.
A simple response saying that clothing could be dropped off on the front porch of Staci's house resulted in a HUGE outpouring of donations, overtaking the garage, some closets, and a room or two.
Fast forward to 2019. Nolensville Community Closet has transitioned to The Community Closet and is now a 501c3 Non-Profit organization.
To further expand the ability to help those in need in places further from Nolensville The Community Closet recently purchased a bus. They are planning to retrofit it with racks and shelving to carry clothing and hygiene items to those in need.
Irwin said "We purchased the bus to help others in our community, but it is quite expensive to keep on the road. The biggest need we have right now is money. We have ongoing expenses such as insurance, registration and gas. We also need funds to convert the interior and paint the exterior."
You can donate via venmo @TheCommunityCloset.