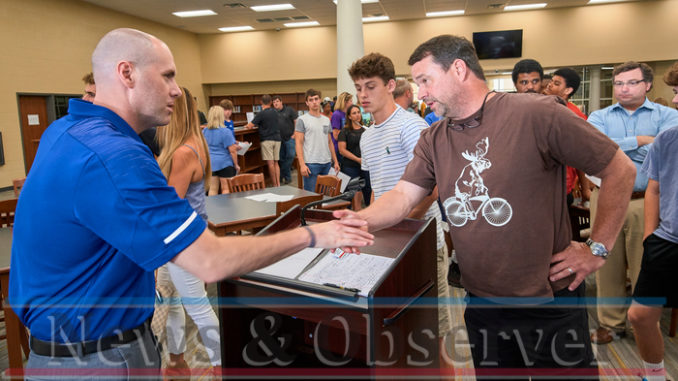 Nolensville High's new boys basketball coach John Stigall met with parents and students in the Knights library Tuesday afternoon to discuss his plans for the team.
Stigall, who is coming to Nolensville from Northeast High in Clarksville, is replacing Wes Lambert who left Nolensville to move back to East Tennessee.
Coach Stigall has been a head coach in Tennessee for 16 years and has compiled 280 wins during that time period. Over his head coaching career, Stigall has led teams to 4 district championships, 2 region championships, and 3 sub-state appearances while being selected district coach of the year 4 times.
"I am very excited to be the next head basketball coach at Nolensville High School. The existing culture of excellence at the school as well as a growing community who is committed to success were major factors in my decision to become the next head basketball coach at Nolensville High. I am thankful to the administration at Northeast High School for the opportunity to lead the basketball program, and I am extremely grateful to the players and parents for allowing me to coach and influence them in a positive way. I look forward to growing and serving the Nolensville basketball program and community," said Coach Stigall.
Most recently, Stigall had been the head coach at Northeast High School in Clarksville where his team posted a 74-28 record during his tenure. Stigall's team also had an 18-4 record in postseason play including an appearance in the 2018 TSSAA final four semifinals.
"As much success as Coach Stigall has had on the court, we are just as excited about the relational culture he brings to our school and community. His philosophy is based on transformational coaching that starts with building meaningful relationships with players, students, faculty, and community members," Nolensville High assistant principal Bryant Gunter said.