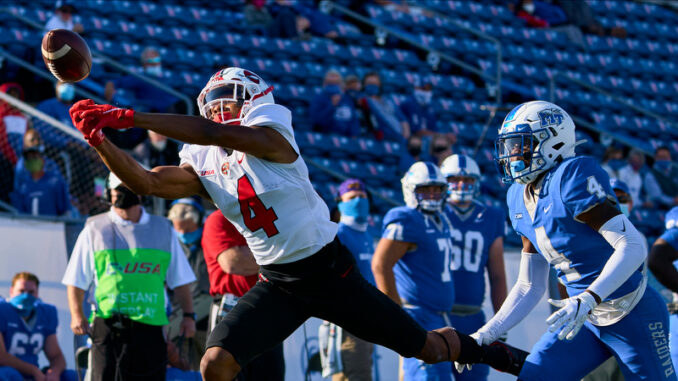 Middle Tennessee lost their homecoming to long time rival Western Kentucky dropping to 0-4 for the season.
Middle lost the game by three, a blocked field goal being the deciding points.  In eight of the last ten meetings the games have been decided by less than a touchdown.
[Best_Wordpress_Gallery id="76″ gal_title="WKU at MTSU"]
"It was a hard-fought ballgame, and we hate to lose it," MT head coach Rick Stockstill said. "I thought our defense played well enough for us to win … we just have to find a way to make more plays and get the ball in the end zone.

"I'm proud of this team. They fought their butts off and played hard."
The first snap of the game ended with a sack of Asher Ohara. Middle finally got their offense in gear and took the lead with a touchdown with 7:51 left in the first half to lead 7-3.
Middle and WKU entered half tied 10-10.
Middle had trouble moving the ball in the second half, punting on their first three possessions.
"We just couldn't get our groove going, and it's super tough to get that back as an offense," O'Hara said. "We have to do a lot better job of getting some big plays and getting some momentum going."
The Blue Raiders did enough on defense to win the game, Stockstill said. It was essentially just two second-half WKU drives that were killers, one going 14 plays and ending with a field goal and the other 13 plays ending with a touchdown.
 
"I thought we played our tails off," senior linebacker DQ Thomas said. "They had some plays that were pretty big … but we still played our tails off."
Middle finally added a touchdown with 2:07 left on the clock to pull within 3 but failed to recover the on-side kick. WKU won the game 20-17.
Ohara led the offense with 23 of 33 passes for 217 yards and touchdown. He also rushed for 98 yards and another touchdown.
MTSU hits to road to take on FIU next week.
"We just have to find a way to get better," Stockstill said. "We have to find a way to get a win this week against FIU."