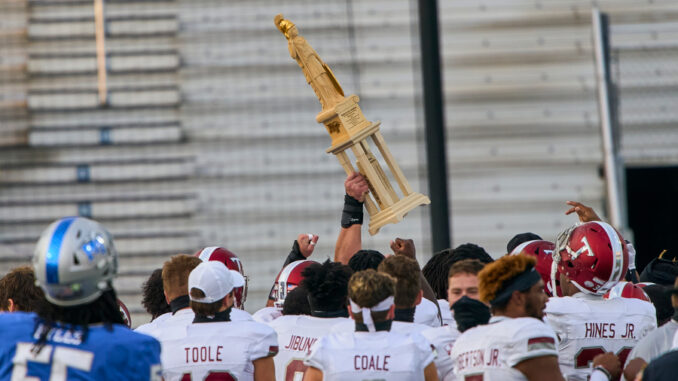 MT Athletics
The renewed rivalry between Middle Tennessee and Troy didn't go the Blue Raiders' way Saturday.

MT (0-2) welcomed the Trojans (1-0) to Floyd Stadium for the first playing of the Battle for the Palladium since 2012 but couldn't keep hold of the trophy, falling 47-14.
[Best_Wordpress_Gallery id="74″ gal_title="Troy at MTSU 9-19-20″]
Photos: Harrison McClary/All Tenn Sports

"We didn't do much good on offense. … We've got to play better on offense," Middle Tennessee head coach Rick Stockstill said. "This one hurt … but I know this team will bounce back. We'll start practice again tomorrow and find a way to correct our mistakes and deficiencies."

The Blue Raider defense did a good job of giving their offense chances, forcing two turnovers, but the offense struggled to deliver on its opportunities, giving the ball up three times.

With an interception and a fumble recovered, plus four sacks and nine tackles for loss, Stockstill was overall pleased with how his defense played. They were simply called upon too much, being on the field for 35 minutes, 45 seconds and 93 plays, compared to 62 plays for its offense.

"Our defense, especially early, was flying around," Stockstill said. "I thought we played fast and put some pressure on their quarterback. … We didn't tackle that good after the first quarter, but I think our defense got a little tired having to be on the field as much as they were."

Leading the way for MT's defense was redshirt junior linebacker Cody Smith, who had a career day with nine tackles, 2.5 tackles for loss, two sacks and a forced fumble, which led to the team's first touchdown of the season.

Smith entered the starting lineup for junior Johnathan Butler, who was injured in the season opener against Army.

"We had two weeks to prepare, so we were able to draw up a couple of good blitzes," Smith said. "This was more our style of game, and we did what we could."

Other standouts for the Blue Raider defense included redshirt sophomore Decorian Patterson with six tackles, 2.5 tackles for loss, 1.5 sacks and an interception and senior linebacker DQ Thomas, who had nine tackles.

Middle Tennessee's offense accumulated 241 total yards, led by senior wide receiver Jarrin Pierce. He set a new career high with 11 receptions, going for 81 yards. The 11 catches were tied for the eighth most in program single-game history.

Redshirt sophomore quarterback Asher O'Hara finished 16-for-23 passing for 109 yards and rushed 14 times for 45 yards, including a 2-yard touchdown in the first quarter that squared the score at 7. It was the first TD of the season for the Blue Raiders.

Freshman Jaylin Lane caught the first touchdown of his young collegiate career in the fourth quarter, a 28-yard strike from quarterback Mike DiLiello.

"[Lane] is more than talented, and he's a great guy. That's what makes him so special," Pierce said. "He was my roommate this week. It felt good seeing him get out there and making his first career touchdown. That's the first of many."

After the game, Middle Tennessee announced an addition to its schedule. The Blue Raiders were supposed to have a bye in Week 4 but will now play at UTSA Friday. Kickoff is scheduled for 7 p.m. CT.