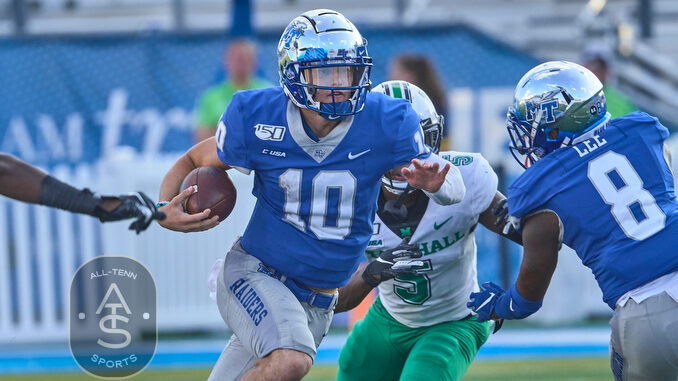 MTAthletics
FORT WALTON BEACH, FL — The Wuerffel Trophy announced its watch list today of 114 players from college football's Football Bowl Subdivision (FBS) and Middle Tennessee's Asher O'Hara is on the distinguished list.
[Best_Wordpress_Gallery id="70″ gal_title="Asher OHara"]

 
O'Hara ended his first year as a starter with 2,616 passing yards and 20 touchdowns, while also adding a team-best 1,058 rushing yards and nine scores. He became just the second quarterback in school history to top the 1,000-yard rushing mark.
 
O'Hara also became the first Blue Raider signal-caller to pass for 300 yards in a game while also topping 100 yards rushing. He accomplished the feat with 367 passing yards and 103 rushing yards in a win over TSU.
 
The Wuerffel Trophy, known as "College Football's Premier Award for Community Service," is presented annually by the All Sports Association in Fort Walton Beach Florida.  Named after 1996 Heisman Trophy winning quarterback from the University of Florida, Danny Wuerffel, the Wuerffel Trophy exists to honor college football players who serve others, celebrate their positive impact on society, and inspire greater service in the world.
 
Voting for the Wuerffel Trophy is performed by a National Selection Committee that includes college football television and print media, industry notables, former head coaches and prior Wuerffel Trophy recipients.
 
The formal announcement of the 2020 recipient will be made at the National Football Foundation's festivities in New York City on December 8. The presentation of the 2020 Wuerffel Trophy will occur at the 52nd All Sports Association Awards Banquet on February 19, 2021 in Fort Walton Beach.